Why hearing loss inspired me to become an audiologist
When I was 19 years old, my life changed in a way that I never could have imagined. On Jan. 5, 2011, my hearing was activated with a device called a cochlear implant, allowing me access to sounds that I had never heard, or never knew existed before.
Prior to my cochlear implantation, I was experiencing hearing loss that caused me to miss social and auditory cues. I was missing the ends of jokes and not hearing in noisy environments.
As a student, I often didn't hear my name when the teacher called on me. I recall one substitute teacher, who after discovering that I was in the classroom after counting me absent, sarcastically asked me in front of the whole class, "What, are you deaf or something?"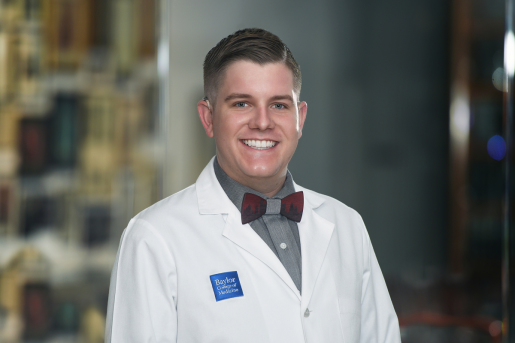 She was the only one in the room who didn't know. It was time for a change.
Leading up to my cochlear implantation, I had watched hundreds of videos on YouTube documenting this exact moment for others. Finally, it was my turn.
My audiologist counted as he slowly turned my cochlear implant up. "1, 2, 3, 1, 2, 3." I started to hear something. "1, 2, 3, 1, 2, 3."
I thought to myself: "I can hear something! I can't quite make out what he is saying, but I can tell he is talking."
There are four steps of auditory development: detection, discrimination, identification, and compensation. Anyone with a brand new cochlear implant goes through all of these steps like a baby learning his or her environment.
As part of my receiving a cochlear implant, I went to listening therapy. It was Christmas time and Jingle Bells was playing in the room. I've had my newly minted hearing for about 30 minutes, so I didn't even notice the song was playing. Once my listening therapist pointed out the song, I noticed a sound, but I couldn't discriminate what it was. I was reassured again that this is normal.
Throughout the following weeks, I returned to my audiology clinic often for reprogramming and listening therapy. As a freshman at the University of Oklahoma, I had two major life-changing events: starting college and getting a cochlear implant.
Once I returned to school, my life was changed in more ways than I could imagine. I had made great strides with my hearing. That spring, I decided to change my major from theater to pursue a Doctor of Audiology so that I could work with people who have hearing loss like myself and walk them through the journey of cochlear implantation.
An audiologist is someone who pursues a clinical doctorate degree so that they may diagnose and treat patients with hearing and balance disorders. As a clinical audiologist at Baylor College of Medicine, I treat a wide variety of patients from all walks of life.
I've learned some unique perspectives that can help anybody who interacts with somebody who has a hearing loss:
There are still people who don't believe individuals with hearing loss can perform day-to-day activities. I've had more than one person ask, "Can you even be an audiologist with a hearing loss?" The short answer? Yes. Hearing loss alone is not a limiting factor and should never prevent someone from achieving their dream job.
Finding an audiologist who uses best practices can make the difference between hearing the end of a joke and missing it. Search for an audiologist who uses real-ear measurements for hearing aid fittings.
If you have hearing loss, trust in yourself and what you are hearing through your technology. The best way to check if you are correct is to rephrase what the person said in a question: "I heard ___, is that what you said?" That allows both of you in the conversation to confirm what you heard.
With the emergence of technology and appropriate therapeutic intervention, people with hearing loss should be able to do anything they their minds to accomplish.
Additional Resources
Do you have questions about the cochlear implant process? Join Baylor at the 4th Annual Cochlear Implant Recipient and Candidate Symposium on Wednesday, Oct. 16 from 2-7:30 p.m. at the Bobby R. Alford Educational Center, 1st floor on the McNair Campus.
Learn more about Audiology Services at Baylor or call (713) 798-5900.
-By Dr. J. Connor Sullivan, audiologist with the Department of Otolaryngology – Head and Neck Surgery at Baylor