Healthy Habits: Brisk walks, watching comedies help Dr. Asim Shah stay balanced
It can sometimes be difficult to find ways to stay healthy, so we've asked members of our Baylor College of Medicine community to share what they do in their daily lives to maintain a healthy lifestyle.
Dr. Asim Shah, professor and executive vice chair in the Department of Psychiatry and Behavioral Sciences at Baylor, shares some of his healthy habits with us.
Q: What health decisions start your day?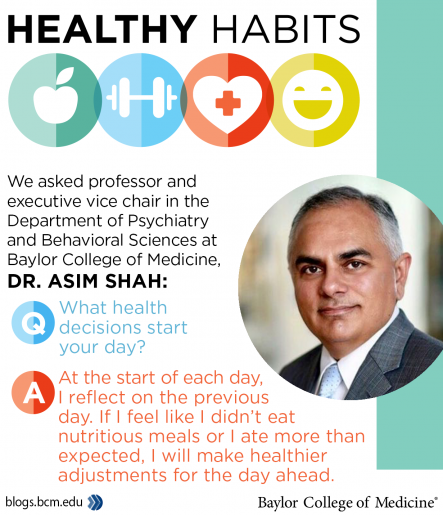 A: At the start of each day, I reflect on the previous day. If I feel like I didn't eat nutritious meals or I ate more than expected, I will make healthier adjustments for the day ahead.
Q: What is your go-to healthy breakfast?
A: I enjoy cereal with milk or egg and toast.
Q: What is your favorite type of exercise?
A: I like to walk on a regular basis along with doing some cardio.
Q: Has the BCM BeWell Program encouraged any of your healthy habits?
A: Yes. I've participated in some of the walking programs. It also reminds me that I should continue to engage in activities to take care of myself.
Q: What activities do you do when you can't fit in a full workout?
A: I like to walk, but sometimes it can be difficult to fit that in. I also do the treadmill when I can.
Q: What is your favorite healthful snack?
A: Any kind of fruit – especially apples, bananas and berries.
Q: How do you make an unhealthy recipe healthy?
A: Though I love to eat, I try to avoid carbs as much as possible.
Q: What hobbies do you have to help you relax?
A: I enjoy watching comedies.
Q: What is your go-to Houston restaurant for a healthy meal?
A: I love Turkish and Mediterranean foods, so I go to a lot of Turkish restaurants. I often go to District 7 Grill if I want something more traditional.
Q: What is your favorite health tip that you live by?
A: Eat the foods you like in moderation.
Additional Resources
Dr. Joslyn Fisher enjoys boogie boarding, high-protein meal substitutions
Protein-rich breakfasts, relaxing walks key for Dr. Peter Jian
Read more healthy habits from members of our community.
Learn how Baylor promotes a culture of healthy living and wellness.