Baylor residents shine bright at radiation oncology conference
Dr. Shraddha Dalwadi has a strong personal connection to her research in health disparities and access to cancer care.
"I grew up in an immigrant family and actually did not have health insurance. We lived in a small town and access to quality care was tough," said Dalwadi, a radiation oncology resident at Baylor College of Medicine. "I'm passionate about finding ways to alleviate boundaries to care and making it more accessible to those in rural communities."
At the 60th annual meeting of the American Society of Radiation Oncology (ASTRO), the largest of its kind in the world, residents at Baylor presented research in a range of topics related to radiation oncology and patient care.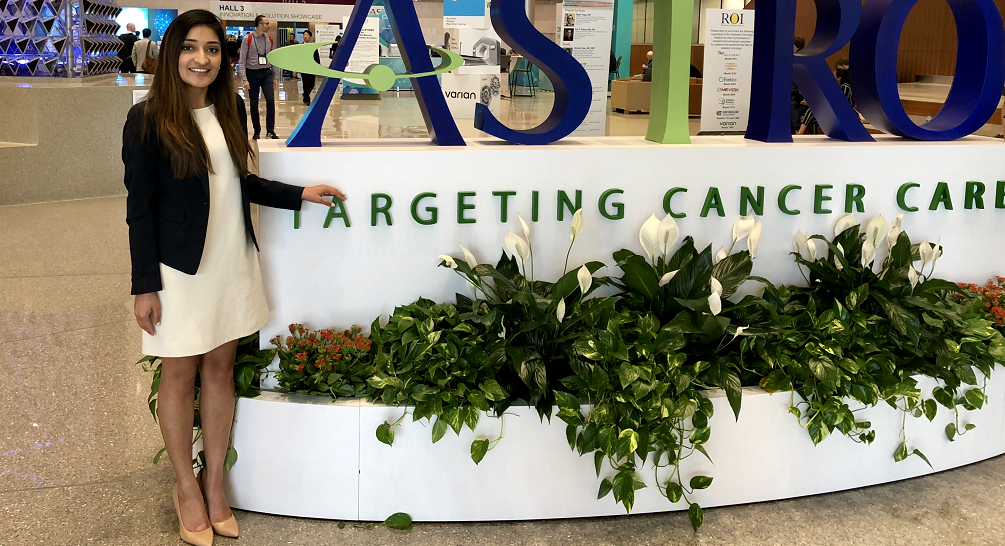 Dalwadi's research focuses on early-stage lung cancer in particular, in cases where the tumors are medically inoperable and radiation can be used in place of surgery to treat the cancer.
"With advances in radiation, we are able to use multiple beams to more precisely deliver high-dose to the tumor in a non-invasive manner," she said. "Additionally, this strategy has shown exceptional local control rates for lung cancer with little to no damage to surrounding healthy tissue, which hasn't always been possible with radiation."
The key takeaways from Dalwadi's presentation are that individuals in rural communities see worse overall survival rates, are less likely to have surgery and are more frequently candidates for radiation.
"Our results stem from the distance many of those in rural settings have to travel in order to receive quality care. Therefore, their cancers are more likely to be detected at a later stage. Additionally, the option to treat their tumors with radiation, in an outpatient setting, is much more appealing than surgery, which would take them away from their families and homes for longer periods of time."
In her experience at ASTRO, Dalwadi was most excited about seeing first-hand how quickly radiation oncology is developing, becoming an option for high-value care that is also customized to each patient.
Dr. Alison Yoder delivered a poster presentation and Q&A session about her research looking at the management of diffuse large B-cell lymphoma with radiation therapy. While the bulk of the research was conducted before Yoder joined the team at Baylor, her research carries into her day-to-day work.
"I first became interested in lymphoma because my mentor was heavily involved in lymphoma research, and her enthusiasm was contagious," Yoder said. "We presented the results of a study where we successfully treated diffuse large B-cell lymphoma that was highly mobile with image-guided radiation therapy and found it to be a viable option."
Yoder is currently looking at a quality-of-life trial for gynecologic cancers, specifically at how a patient's quality of life correlates with improved radiation compliance, or the frequency with which patients make it to their treatment appointments, which is associated with higher treatment success.
"We see so many patients who are unable to make it to their radiation appointments, whether it's because of lack of access to transportation or not being able to take time off of work. Because radiation therapy is continuous, it's really important that patients don't miss their treatments, so we want to understand the lifestyle-related reasons that might be contributing to reduced treatment compliance."
As a first-time ASTRO attendee, Yoder took advantage of the opportunity to network with others in the field and met young colleagues who she may have the opportunity to collaborate and share ideas with in the future.
Timothy Lin presented his research studying the involvement of the retropharyngeal lymph node in human papillomavirus-associated oropharyngeal cancer, which carries over into his current research in head and neck cancers.
"The most exciting thing to me about ASTRO was learning about the latest research being done in the field of radiation oncology," he said. "This research has the potential to extend the lives of patients with cancer diagnoses."
-By Allison Mickey