Getting 'SMART' about reproductive medicine
Making her way down to Houston from Pittsburgh, Pa., Kathryn Prescott joined Dr. Dolores Lamb's Laboratory for Male Reproductive Research and Testing for the 2016 Summer Medical and Research Training (SMART) program at Baylor College of Medicine. Entering into her senior year as a biochemistry major at Grove City College, Prescott was excited to gain some large laboratory experience in the reproductive medicine field.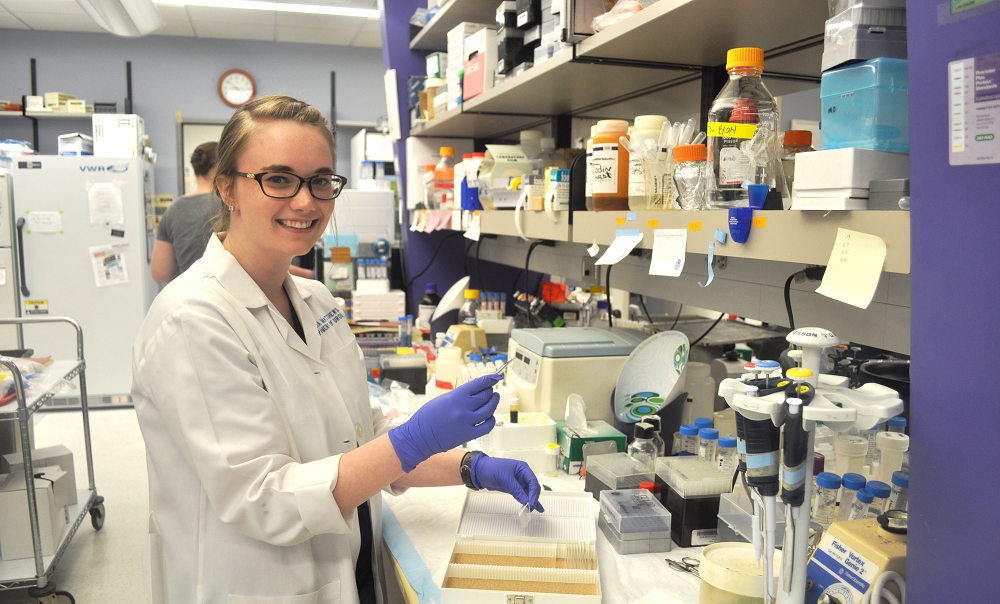 "I enjoyed the immersion and working with different scientists from all over, talking to them, and getting advice from them. I really learned a lot from the environment," Prescott said.
Under the mentorship of Marisol O'Neill, graduate student and research assistant in the Department of Molecular and Cellular Biology at Baylor, Prescott worked on understanding birth defects linked to low testosterone levels. Her experience included performing and taking care of cell cultures, working with immunofluorescence, staining, spot work, and a couple of different assays.
"The experience was vital as I am graduating soon and considering graduate and professional schools. I really wanted to get into a lab and find out what the day-to-day is like, what people experience, and what I could possibly experience someday," she said.
Prescott said she was grateful to learn more about reproductive medicine, as it can sometimes be a taboo topic.
"It is an area that people don't talk about. It's been eye-opening to see how common these problems are and how prevalent in society they are, and how we're working to help those affected by them."
Prescott has a strong interest in structural biology and plans on taking her experience into graduate school. "The SMART program has been really enlightening as far as my ambitions to go to grad school. It's cool to see the basic science being applied to the world."
Additional Resources
Learn more about the SMART program.
Visit the Center for Reproductive Medicine website.
-By Jyoti Patel, administrative associate in the Center for Reproductive Medicine at Baylor