Healthcare market consolidation: What the dialysis industry tells us
There's an American aversion to anti-competitive market practices. A capitalist society assumes that competition means more innovation, more choices, and lower prices, and that market consolidation means less of these things.
However, this is not always the case – especially in healthcare. Understanding the consequences of past consolidation in healthcare markets can inform us of whether future healthcare policies should aim to preserve market competition.
Consolidation in the dialysis arena is not a new phenomenon. The Medicare program insures more than 80 percent of patients with end-stage renal disease (ESRD) in the United States. This has resulted in an emphasis on reducing outpatient dialysis costs, which has fueled more than a decade of national consolidation among dialysis providers. This created a market environment in which just two for-profit corporations now provide dialysis for more than 70 percent of patients with ESRD.
The Patient Protection and Affordable Care Act has coincided with a wave of additional merger activity in healthcare markets, leading to concern about the effects of consolidation on cost, quality, and access to care. Because this type of market structure shift is well-established within the dialysis market, it is an area that is ripe with policy insight for other areas of healthcare.
Our research shows that, between 2001 and 2011, the number of dialysis facilities in the United States rose by more than 50 percent to meet the increasing needs of a growing dialysis population.  However, the new facilities entering the market were primarily members of larger dialysis chains and several large mergers that occurred during the decade led to a decrease in the number of different uniquely-owned competing dialysis providers in the United States.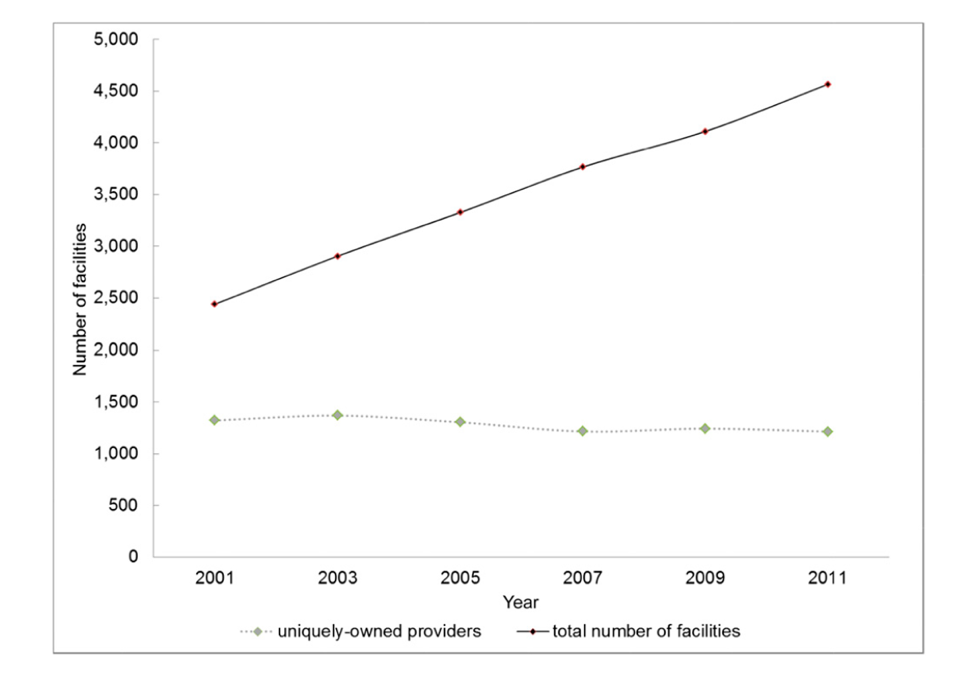 Surprisingly, we did not find evidence that this national decline in competing dialysis providers translated into fewer choices available to individual patients. Dialysis facilities compete for patients at a local level. For the average patient, there was actually a 10 percent increase in the number of competing, nearby facilities from which they could choose to receive dialysis.
The increasing level of patient choice is surprising in what, by standard measures, is a highly concentrated market that has experienced ongoing consolidation. For reference, we looked at the Hirschman Herfindal Index (HHI) to measure competition. HHI is a measure of market concentration and an indication of the amount of competition within a given industry. An HHI of zero would be a market with perfect competition. An HHI of one would be a monopoly. The Federal Trade Commission and Department of Justice consider markets with an HHI of greater than .25 to be highly concentrated, where even small changes in market concentration due to mergers raises significant competitive concerns.
In 2001, the HHI of the average local dialysis market was .46 and it remained at that level throughout the study period. This suggests that markets are highly concentrated, but that consolidation that occurred at the national level did not lead to more concentrated local markets.
Concerns that market consolidation resulting from regional and national mergers and acquisitions will limit patient choice may be unfounded when considering the actual choices available to patients. Our research highlights the need to exercise caution when drawing conclusions about how national merger headlines affect choices available to individual patients.
Recent consolidation in the dialysis market has not, on average, limited patient choice.  However, we also found that dialysis markets have been highly concentrated. Future research will be required to understand whether a sustained absence of dialysis market competition has affected the delivery of care, costs paid by private insurers, and patient health outcomes, and whether these patterns are observable across the healthcare industry.
-By Dr. Kevin Furman Erickson, assistant professor of medicine, section of nephrology at Baylor College of Medicine