Patient expresses freedom from limits through artwork
When Dr. Cynthia Peacock, associate professor of medicine at Baylor College of Medicine, helped establish the Transition Medicine Clinic in 2005, she set out to treat those with developmental and genetic conditions as they moved into adulthood. Now, the clinic serves about 700 patients with conditions such as cerebral palsy, Down syndrome, autism and others.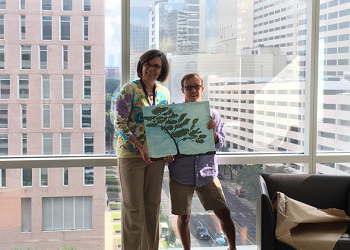 Brandon Lack is one of these patients, and has been receiving care from Peacock for almost a decade. Through getting to know his family, Peacock discovered Lack's love of painting, which inspired her to rally others to support him.
"While talking to the family, finding out what they're doing, and how they are engaging the community, Brandon started showing us his artwork. We were all pleasantly surprised to see how talented he was. It became our focus to support Brandon in his artwork."
To recognize the care he's received at the clinic, Lack presented Peacock with one of his original paintings, part of the Free from Limits initiative he started with his family.
The painting, depicting a bright green tree against a blue-sky background, was presented to Peacock at the Baylor Clinic in September. Watch Lack present Peacock with his painting in the video below.