'DIVA U' series aims to spark conversation around medical ethics and health policy issues
From the psychology of medical decision making to stem cell research and policy, there are a wide range of ethically controversial topics in medicine and biomedical research that will impact all of us at some point in our lives. The Baylor College of Medicine Center for Medical Ethics and Health Policy's DIVA U Speaker Series will provide an opportunity for attendees to learn about some of these issues while providing a forum for them to join in the dialogue.
The Center's Director Dr. Amy McGuire and Manager Lindsay Feuerman, explain how the series was formed and what to expect from each session.
Q: What is the DIVA U speaker series and what does the name mean?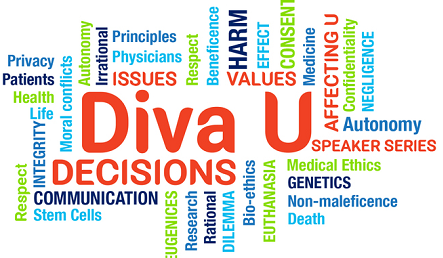 A: The Decisions, Issues, and Values Affecting U (DIVA U) Speaker Series consists of five lunchtime sessions featuring a Baylor faculty member who presents a relevant medical ethics dilemma followed by lively discussion. The name is the product of a brainstorming session with the event co-chairs, Doe Florsheim and Sheri Khatami, and center director Amy McGuire.
We knew what we wanted to accomplish: Connect with the broader Houston community around cutting-edge issues in medical ethics and health policy, leave guests feeling inspired and like they learned something new after each session, and choose topics that personally resonate with everyone.
The conversation will focus on the "decisions," "issues" and "values" that inform ethics and policy, and to personalize the sessions and highlight the fact that many of us will face these dilemmas in our own lives, we added "affecting u" as the final touch. The series will be fun, interesting, and engaging, hence the "DIVA" acronym.
Q: Why is this speaker series important, and what need is it fulfilling in the community?
A: We all experience similar medical and policy issues (e.g., the doctor-patient relationship, effects of technological advancements in healthcare, end-of-life care), and the Center is here to unpack the ethical undertones and provide guidance on how to do the right thing. We value creating a meaningful connection between the work we do and the people whose lives are impacted by these important ethical questions.
By bringing the speaker series to the community, we intend to foster a lasting dialogue around these issues while simultaneously encouraging guests to think about their own values.
Q: What inspired the Center to develop this series?
A: This past year, the Center created an advisory council of Houston community members to contribute to our outreach efforts, help plan events and build our philanthropic base. During our meetings, a Center faculty member would present a case study followed by group discussion. The members enjoyed this so much, they thought it would be great to expand this concept and bring it to the larger community. Members of the advisory council and event co-chairs brought this idea to life and we are so thankful for their passion, creativity, and leadership.
Q: What can people learn from attending one or more of the sessions? Is it open to the public?
A: This series is open to the public – we want as many perspectives as possible to contribute to the conversation and be impacted by this new knowledge. The sessions cover current events and hot topics in medical ethics and health policy, including health privacy, defining death, stem cells and regenerative medicine, and genetics.
The first DIVA U session takes place Thursday, Oct. 13, and will address behavioral economics and medical decision making. Register online by Oct. 6 to attend this session and learn more about the following sessions.
-By Allison Huseman