'Evenings with Genetics' provide critical information on genetic diseases
Dealing with the diagnosis of a developmental or genetic disorder can be a difficult and often confusing time for both parents and their children.
Since 2006, Baylor College of Medicine's Department of Molecular and Human Genetics and Texas Children's Hospital have partnered to host Evenings with Genetics, a seminar series that is free and open to the public. A different rare disease or genetic condition is discussed at each session, combining the expertise of a faculty member from genetics and from a specialty area involved in care and treatment of the disease.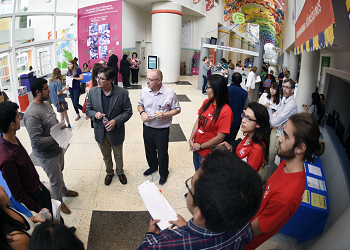 "Many times parents and children, and even adult patients, have never met another person with their same condition," said Susan Fernbach, RN, BSN director of genetic outreach at Baylor, who launched the series in 2006 with Dr. Arthur Beaudet, chair of the Department of Molecular and Human Genetics at Baylor at the time. "With this outreach, we are able to connect patients and families with others similarly affected and with medical specialists."
Between Houston and statewide sessions, Evenings with Genetics has reached over 8,000 people and more than 3,000 healthcare providers.
"It's a unique program that reaches a broad audience of parents, caregivers and even students who have access to experts they wouldn't otherwise," said Dr. Daryl Scott, associate professor of molecular and human genetics at Baylor.
Some topics are addressed regularly, such as Down syndrome, genetic testing and updates on autism research. The next seminar will feature a discussion on myotonic dystrophy.
Additional Resources
Read more about Evenings with Genetics.
View the schedule of upcoming Evenings with Genetics seminars.
Baylor College of Medicine has joined the Houston Chronicle in celebrating Houston's history in a six-month retrospective project. This story is part of an ongoing feature that can be found on our website. Now through October, we'll be highlighting our shared history with the community.