Growing Up Baylor: Sarah Keyes
Imagine studying, training and eventually teaching at the same institution during the span of your career. A special group of physicians, faculty members and researchers at Baylor College of Medicine have had this unique experience.
Sarah Keyes, an assistant professor in Baylor's Physician Assistant Program, tells us how training and working at Baylor has impacted her life and career.
Q: Did you always know you wanted to study medicine?
A: Aside from a short stint of wanting to be president, an astronaut, or a gymnast; yes, I always wanted to study medicine. In high school, I had an exceptionally engaging biology instructor who inspired me to love learning in general and to love learning about how the body works. I was further attracted to medicine because I felt excited by the prospect of marrying science to the art of taking care of people.
During and shortly after college, I entertained the doctoral route and although I love science a great deal, I also knew I would miss the opportunity to interact with patients. Being a physician assistant (PA) allows you to be a student of medicine, empathy, and to participate in the interesting challenge of being part of a team.
Q: Where and when did your journey with Baylor College of Medicine start?
A: I actually started my journey at Baylor several years before my training. I moved to Houston in 2008 shortly after graduating from the University of Arizona and took a job in a research laboratory as a research technician at Baylor. Within a year of working there, a colleague had informed me about Baylor's PA program so I went to an information session. I was instantly attracted to the idea of becoming a PA, and what better place to study than Baylor?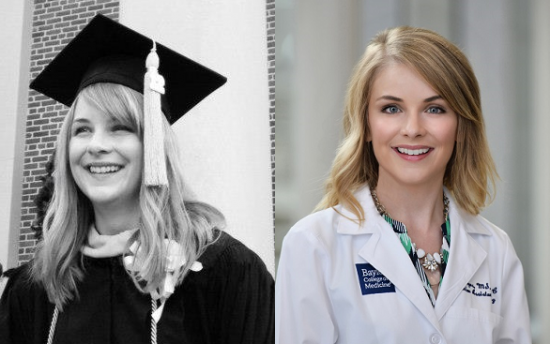 Q: What inspired you to continue studying at Baylor?
A: Baylor's PA program is one of a kind. The program has the founder of PA education, Carl Fasser, as its director and it's also known for its excellence. On top of that, the program is located in one of the most diverse cities in America and at the heart of medicine in the Texas Medical Center. I interviewed at another program a week before my Baylor interview and was instantly accepted there. But I came to the Baylor PA program for my interviews; I then called and told the other program I was rejecting their offer – even if I was not accepted. Baylor was my choice.
Q: What is the most valuable lesson you've learned?
A: One of the most valuable lessons I have learned at Baylor is the difference between a job and a calling. For me, working in a research lab was a job – that work did not inspire me although I logically understand the importance and value of research.  However, being a student of medicine was a calling for me. Being an educator, a life-long learner, and taking care of others is my new calling. If what you want to do is your calling and you truly have a passion for it, no obstacle is too great to overcome.
Q: If you could do something differently, what would it be?
A: I would have shown the faculty who were part of my education more appreciation. Coming out of training and into the clinical setting, I realized how incredibly well I had been trained and how much that training was the responsibility of my faculty. I knew they worked hard of course, but I never knew how much they had on their shoulders to ensure me and my classmates' achievement.
They did not just impart medical knowledge to me – they also trained me to be a professional and to be an empathetic individual. They provided models of what being a great physician assistant means.  Today I realize they are an inspiring group and I am so incredibly lucky to work with them now.
Q: What do you think makes Baylor unique?
A: Baylor is unique because it's a special and perfect blend of excellence and legacy, but with a family feeling. At every point along my career, whether as an employee, student, or faculty member, I have felt strongly attracted to this family feeling. The entire facility is infused with a sensation of "togetherness" in excellence. It never feels "stuffy" here and there is a constant sense of creativity, individualism, and striving toward achievement as a team. As a PA, this is one of the most attractive qualities a place of work can offer.
Q: How has sticking with Baylor programs and ultimately becoming a faculty member impacted your life and career?
A: It's hard to predict this early on, but I know that being this close to the heart of my profession is a truly challenging yet rewarding experience. I feel inspired by the other educators around me. They care about what they are doing and each other.  Marinating in that environment makes me a better PA. Being a better PA means that I am even more fulfilled by my calling and enabled to make more changes to the profession, healthcare and the world. Maybe I will be an astronaut after all!
Additional Resources

Read more from the Growing Up Baylor series.