Curing Elephant Endotheliotropic Herpesvirus
You've seen crowdfunding used to raise money to bring things like technology, movies, video games and more to life. Now, researchers at Baylor College of Medicine are using the approach to gain support for developing a vaccine to fight Elephant Endotheliotropic Herpesvirus (EEHV).
The Baylor team, led by Dr. Paul Ling, associate professor of molecular virology and microbiology, is collaborating with scientists at the Baylor Human Genome Sequencing Center and other institutions across the country to discover what parts of the elephant herpesvirus are important for generating protective immune responses.
Ling explains how the effort to cure EEHV started: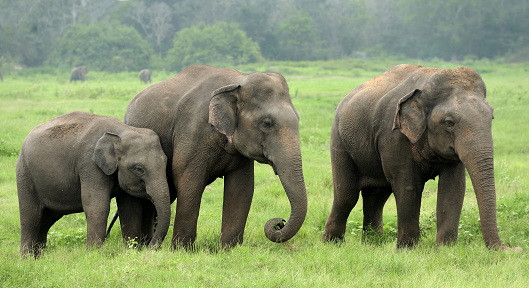 Eight years ago, scientists and zoo veterinarians embarked on a project to eliminate disease caused by EEHV, a herpes virus that can be highly fatal to Asian elephants, both in captivity and in the wild.
Since that time, we have developed an improved test that can quickly detect the virus—even before symptoms develop—so that treatment can be started to prevent severe or even fatal disease. Now, we are working on a vaccine.
EEHV is a significant cause of death among juvenile Asian elephants in North America. At current breeding rates, the population of Asian elephants in North America is expected to decline in the coming decades. With only 24 Asian elephants under the age of eight in the United States, a loss of even one elephant impacts the population in addition to the emotional cost to individuals and communities that support and care for these majestic animals. Solving the EEHV problem alone is projected to stabilize and allow for an increase in this population. While baby elephants are the most vulnerable and we've made considerable progress in keeping them protected, more research is needed to help ensure these animals continue to live long, healthy lives as they age. Money raised from this crowdfunding effort would go directly towards purchasing the materials required to carry out discovery efforts leading to a vaccine for EEHV.
We anticipate, based on what we have learned from immunity to other human herpesviruses, that 30 or so of the 118 proteins made by the elephant herpesvirus are likely vaccine candidates and that perhaps a few of them will end up being superior for inducing protective immune responses. We are hopeful that the crowdfunding effort will allow us to test some of the top candidates within this group.
Additional Resources
Whole genome sequenced of deadly elephant herpes virus subspecies