Transforming community health: The Baylor Teen Health Clinic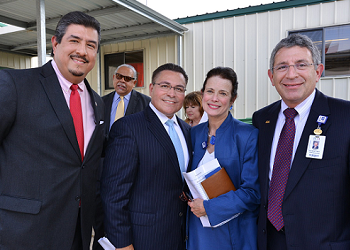 For 45 years, the Baylor Teen Health Clinic has served Houston's youth by providing high quality healthcare to young men and women 13 to 25 years of age.
Under the leadership of Dr. Peggy B. Smith, professor of obstetrics and gynecology at Baylor College of Medicine, the Baylor Teen Health Clinic is now a system of 10 community and school-based clinics that provide comprehensive medical care via 30,000 visits to medically underserved young adults each year. Smith says the fundamental goals of the clinic remain the same despite its substantial growth.
"We have grown tremendously, but we stay focused on providing essential care. Our services are not complicated or fancy – we're doing rapid HIV testing; we're doing meningitis vaccines, a pre-requisite for all teens to go to college – but with a little effort we are transformational for our patient population," Smith says.
Learn more about Baylor Teen Health Clinic's service to Houston's youth.
Additional Resources
Linking teens to healthcare, information through an app
Visit the Baylor Teen Health Clinic's website.
Baylor College of Medicine has joined the Houston Chronicle in celebrating Houston's history in a six-month retrospective project. This story is part of an ongoing feature that can be found on our website. Now through October, we'll be highlighting our shared history with the community.