Growing Up Baylor: Dr. Ronald Cotton
Imagine studying, training and eventually teaching at the same institution during the span of your career. A special group of physicians, faculty members and researchers at Baylor College of Medicine have had this unique experience.
Dr. Ronald Cotton, instructor in the division of abdominal transplantation at Baylor, tells us how training and working at Baylor has impacted his life and career.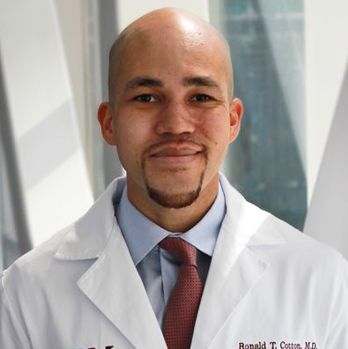 Q: Where and when did your journey with Baylor College of Medicine start?
A: My journey started in the fall of 1994, when I enrolled as a freshman at the Michael E. DeBakey High School for Health Professions. From there, I entered the Houston Premedical Academy, an eight-year B.S./M.D. program between the University of Houston and Baylor. I did residency training in general surgery followed by fellowship training in abdominal transplantation at Baylor. I joined the faculty in 2015.
Q: What inspired you to continue studying within Baylor programs?
A: This place pushes me to be better every day. I've had extraordinary mentors who are among the best in the world. I've learned in very different yet equally impressive facilitates. I've had access to amazing opportunities. It is an honor to, as faculty, contribute to this environment.
Q: What makes Baylor unique?
A: Baylor is a very special place. It has an extraordinary legacy and reputation, but continues to evolve into something greater than it was before. It is large and diverse, yet maintains a familial touch. The school is exceptional, but not ostentatious. It encourages uncompromising excellence as well as individual pursuits. This is an amazing place in which to work and grow.
Q: How has practicing at Baylor affected your life and career?
A: I've been able to practice in a world-class institution close to friends and family in the city I love. Furthermore, transitioning from learner to educator and provider in this system provides a unique perspective. I can offer insight from different points of view and contribute to continued improvements in education and patient care.
Next: Dr. Diana Stewart, assistant professor of medicine and pediatrics at Baylor.
Additional Resources
Read about Baylor's educational partnerships and programs.
Learn more about the Michael E. DeBakey High School for Health Professions.