Throwback Thursday: Biking to work
May 6 is Bike to Work Day in the Texas Medical Center. However, for many people in Houston and across the country, every day is "bike to work day" for a multitude of reasons. Take a look at this 1975 photo from Inside Baylor Medicine (a predecessor of BCM Family), courtesy of the Baylor College of Medicine archives, featuring faculty member Dr. Gene Guinn.
Besides the personal benefits of biking, such as improved fitness and wellness, it also helps relieve traffic and reduce carbon pollution. The feature noted that at the time, Guinn regularly rode his bike to work. He also helped raise awareness of bicycle security and advocated for city-wide bike trails.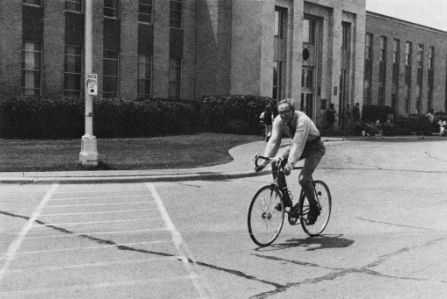 Want to participate in Bike to Work Day tomorrow in the Texas Medical Center? Register for the event and view biking routes from BikeHouston.
-By Nicole Blanton