Holocaust Remembrance: Sharing Dr. Ervin Adam's story
Editor's note: As today marks Holocaust Remembrance Day, we share Dr. Ervin Adam's story of surviving the Holocaust and his successful career in science and research. This post was originally published in the February 2013 edition of From the Labs and has been updated.
In his long career, Dr. Ervin Adam, professor emeritus of molecular virology and microbiology at Baylor College of Medicine, has participated in the eradication of polio from his native land, established the role of herpes simplex virus 2 in cancer, helped pioneer the practice of geriatrics in Houston and continued to follow the women exposed to the drug diethylstilbestrol (DES) during pregnancies from 1940-1970. It is no surprise that he was awarded the Award Ceska Hlava (Czech Mind) at ceremonies in Prague in November 2012. However, his relationship with the Czech Republic (then Czechoslovakia) was not always been easy.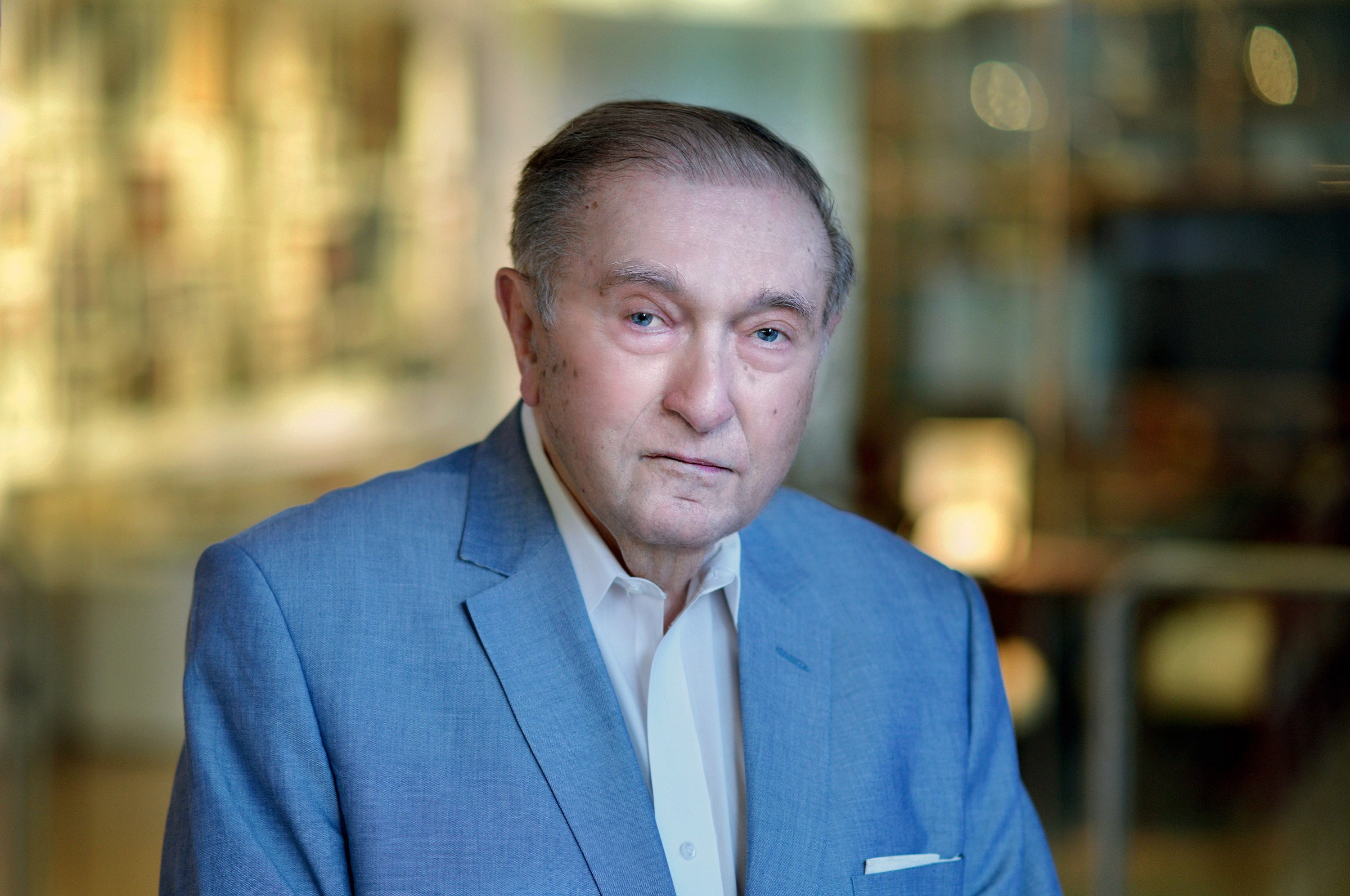 Adam was born 95 years ago in what was then known as Sub-Carpathian Russia in east Czechoslovakia. However, after the treaty of Munich was signed in 1938, Hungary invaded the region in March 1939 at the instigation of Nazi Germany. Shortly after his high school graduation, Adam came home to find his parents packing under the watchful eyes of Hungarian police.
His father looked at him and said in Czech, "Take your sister and disappear." He told the police he would go to his room to pack. Instead, he and his sister jumped out of the window and ran to his uncle's home. He learned later that his parents were executed in the Ukraine sometime in 1941. Adam managed to elude the Nazis until 1944, when the Germans occupied Hungary and he was captured and "deported."
He was shuffled from concentration camp to concentration camp. While he was en route, two American GIs came by on motorcycles, soon followed by American troops. He was freed, and when the military learned he was from Czechoslovakia, he was taken to Prague. Of his family, only he and his sister survived.
Medical studies and love
He received a scholarship and completed his medical studies, where he met his wife, Vlasta, also a medical student. They completed their studies in Prague and began work at Bulovka, an infectious disease hospital. In 1954, they both became assistant professors of infectious diseases at Charles University, concentrating on polio. Neither were members of the Communist Party and in 1959 and 1960, first his wife, Dr. Vlasta Adam, and then he, were kicked off the faculty of the medical school for providing "insufficient medical-political education" to the students.
It was a blow, but their involvement in polio enabled them to get other jobs; he in Institute of Immunology and she in the Institute of the Continuing Education of Physicians. When news of the Salk vaccine became public, the government bought a supply from Canada, but it would not serve the whole population. To stretch the supply, Ervin Adam suggested that they vaccinate with one-fifth the recommended dose intradermally rather than into the muscle. The technique and dose were protective. By 1959, Dr. Albert Bruce Sabin had perfected the live vaccine that was even more protective and could be taken orally. Stymied by the U.S. Food and Drug Administration that would not approve clinical trials in the United States, he sought other partners.
Pioneering the Sabin vaccine
Adam was a member of a research committee on polio in the Czech ministry of health, and he and other were interested in the new vaccine. The surgeon general at the time, Vilem Skovranek, had the courage to approve using the vaccine in Czechoslovakia. First, they tried it on themselves and their families. After more small studies, they vaccinated 250,000 people in 1959. At first, Sabin gave them permission to make the vaccine locally, but later rescinded that when he began negotiations in Moscow, where eventually 10 million people received the vaccine. In 1962, studies in the general population and the environment (including sewage) showed there was no more wild-type virus and that the disease had been eradicated from the country, Adam said. The Soviet effort received more publicity, but Adam points out that the Czechs were first.
Prague Spring
In the late 1960s, Czechoslovakia and, in particular Prague, became known in the Soviet bloc for its forward thinking – a period known as the Prague spring. In 1968, that liberalization ended when the Soviets invaded. At that point, the Adams realized they would have to leave their native country.
"The Russians came in at 9 p.m., and I would have left at 10 a.m., but I didn't have gasoline for my car," he said. "It took us four or five days to leave." For the first three months after the invasion, it was easy to leave – as long as you took nothing with you, he said.
His children were 11 and 14, and his wife was worried about the future, but they forged on. They took a small amount of clothing and their paintings, which they hid in the bottom of their luggage, and drove to Vienna.
Once there, they were contacted by a friend in Marburg, Germany, but later they opted to take an offer at McGill University in Canada. Before they left, they received a communication from Dr. Joseph Melnick, a prominent polio and virus researcher who then headed the virology department at Baylor. However, they had committed to McGill. Once there, they found the university caught up in chaos. French Quebec wanted autonomy from Canada, and French students were angry at McGill, the English bastion in a French city. In addition, the Adams would have to take medical exams in French to get their licenses to practice medicine.
Moving to Houston
During all this, a friend called to say the Baylor position was still open. Adam called Melnick and said he would be there as soon as he could get a visa. That took two weeks.
"Since that time, I've been in Houston, Texas," he said.
He and his wife had to take their medical examinations again, but they passed easily and started a geriatrics practice. He also began to study herpes simplex virus 2 as it related to cervical carcinoma. He studied the cancer around the world but soon became convinced that the herpes virus was not the cause of the disease, even though women who had it were twice as likely to get cervical carcinoma. A prospective study that began in cooperation with Dr. Vladimir Vonka in the Czech Republic in the late 1970s demonstrated that the herpes simplex virus was not causative.
Fall of the Iron Curtain
As the Iron Curtain fell and politics became less strained, Adam and his wife became more reconciled to the Czech Republic, although they never considered returning. In 1989, they both received the Gold Medal from the medical school of Charles University in Prague. Later, he and his wife claimed the pensions to which they were entitled from the government of the Czech Republic and used the money to fund scholarships for medical students there.
"Our only stipulation was that they pass their exams," he said.
Dr. Vlasta Adam died five years ago, but her husband continues to come to work on a limited schedule.
The money from the Czech Mind is to be used to as an award to young scientists under the age of 35 years who are published as first authors of an article in a peer-reviewed journal and present the best research in a given year, said Adam. It is a long-lasting legacy that will provide benefit to the country where he was born.
–By Ruth SoRelle, M.P.H.