How I gave my ovarian cancer a 'double whammy'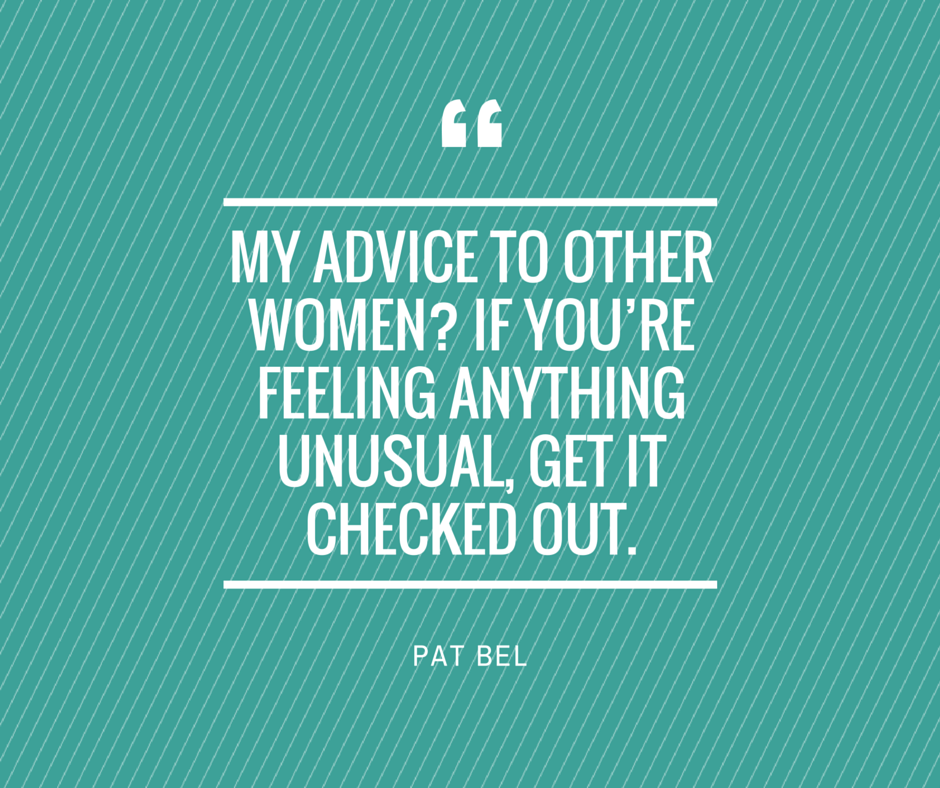 In January 2015, at the urging of my friend of 40 years, a retired OB/GYN, I finally went to see an internist about a pain I'd been having in my left side. My friend just happened to be in town the day of my appointment and insisted on going with me.
As she explained to the internist, Dr. Derek Meeks, my pain would last about 90 seconds, very akin to a contraction, then it was gone, only to come back again about three hours later. The doctor recommended a CAT scan. He did the test and we left.
On our way home the doctor called and said he needed to talk to me. That's never good.
We went back and he told me the scan showed a myriad of tumors. He said I needed to see a gynecologic oncologist. I've been a patient at Baylor College of Medicine for years and wanted to stay here, so I called their OB/GYN practice and they scheduled me with Dr. Concepcion Diaz-Arrastia.
I had no idea at the time how fortunate I was.
I met with Dr. Arrastia just four days later. There were more tests, of course, most of which looked normal. A biopsy, however, showed cancer consistent with ovarian cancer.
Within two weeks, I was in surgery at CHI St. Luke's Health–Baylor St. Luke's Medical Center to remove as many of the tumors as possible. The next step: chemotherapy to kill any remaining cancer cells.
Dr. Arrastia told me I had my options: I could do intravenous (IV) chemotherapy, or I could do IV chemo combined with something called intraperitoneal or "IP" chemotherapy. With IP therapy, the chemo medication is pumped straight into your abdomen, where the cancer cells are, so it's more concentrated when it reaches them.
I asked her what was most thorough and she said the "double whammy" – the IP/IV chemo combination, which studies continue to show can significantly improve survival rates. So that's what I did.
Eight days after my surgery, I went to the oncology floor at Baylor St. Luke's Medical Center for my first IP chemotherapy. With IP chemotherapy, the medication is mixed with two liters of saline and then pumped through a port implanted in your abdomen. There's a special place in heaven for that oncology team. They were incredible. Every single one of them treated me like I was their own mother.
After conducting some research, Dr. Arrastia found I could continue the IP therapy on an outpatient basis at Kirby Glen, CHI St. Luke's Health outpatient infusion center.
No one ever said chemo would be fun, but I was so naïve. I had no idea you could get that sick. Each IP treatment took a long time, about six or seven hours, and I went every two weeks. In addition to the nausea and diarrhea, the pain in my stomach was constant. Right about the time it started to wane, it was time for another IP treatment. No one ever said chemo would be fun so I thought everything I was going through was normal.
It wasn't.
The IP chemotherapy was so difficult I stopped after two and finished with only IV chemotherapy. I didn't have the abdominal pain I had before, but I was still sick.
I just recently finished chemo so it's all still pretty fresh. Dr. Arrastia asked me if I would recommend both treatments, knowing what I do now about the IP chemotherapy.
Absolutely.
When you're trying to rid your body of cancer cells, why not be as thorough as possible? Even when you're like me and you don't complete the full six treatments, the data shows IP therapy still improves your survival rate.
As terrible as the treatment was, it wasn't impossible and that's what women need to know. You just press on.
I remember one time when I really thought I was dying, and I told Dr. Arrastia about it – I'm from LA and I can tell you it would have been a great movie scene.
I was just lying there and I made the comment, you know, last night I knew I was at death's door and it was interesting because there was no panic, no "let's call the priest." It was more like, huh, so this is where I'm going to die. And Dr. Arrastia got in my face and she said, "You're not going to die, do you hear me, you're not going to die!" She said it like three times so I said, "OK, message received!"
During my treatment I learned how incredibly kind people can be. As strange as it sounds, I'm grateful for the experience because it gave me the opportunity to meet some amazing people with such big hearts.
I can't tell you the number of times Dr. Arrastia called me at home, or came to see me in the hospital or when I was getting my chemo. The folks there asked me if she was my doctor. I said, yes, why, don't the other doctors come? They said no, she's the only one. That makes a huge difference in your recovery.
My advice to other women? If you're feeling anything unusual, get it checked out. I actually cancelled my appointment with the internist back in January, when they called to confirm. Had I waited any longer, I suspect things would be much worse.
I would also encourage women to know their treatment options, including intraperitoneal chemotherapy.
Dr. Arrastia shared with me a NY Times article that came out recently about how underused IP treatment is, despite its effectiveness in helping women live longer. I sent it to my doctor friend and she said she had already told her former colleagues that if she ever gets ovarian cancer, she's coming here to Baylor.
Being here has made a huge difference. The whole process was incredibly efficient. The name of the game was "do it now." I got in right away. I got biopsied right away. I had surgery right away. My friend and I are still reeling from how quickly it all happened, and how there were no delays between steps – you can't afford that when your cancer is progressing.
She said "these guys are good – they have it all together."
I couldn't agree more.
-By Pat Bel