Growing Up Baylor: Dr. Anitra Beasley
Imagine studying, training and eventually working at the same institution during the span of your career. A special group of physicians, faculty members, researchers and staff at Baylor College of Medicine have had this unique experience.
Dr. Anitra Beasley, assistant professor of obstetrics and gynecology at Baylor, tells us how training and working at Baylor has impacted her life and career.
Q: Did you always know you wanted to study medicine?
A: For as long as I can remember, I wanted to study medicine.
Q: Where and when did your journey with Baylor College of Medicine start?
A: Baylor has always had a phenomenal reputation, so as a native Houstonian, I feel like I've always known Baylor. My first major interaction with Baylor was during a field trip in high school, I believe.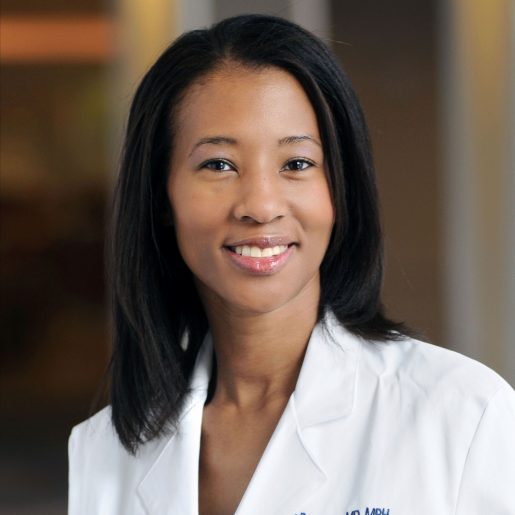 I remember going to the museum, which was much smaller than it is now. I also watched a surgery at one of the hospitals from the galley above (which does not exist now). But my journey really began as a SMART program summer student.
Q: How did you decide on your specialty?
A: I think obstetrics and gynecology decided on me. When I came to Baylor, I thought that I would be a trauma surgeon. And like most others, I changed my mind many times along the way.  The only constant was that I was not going to do Ob/Gyn.
However, once on the clerkship, I realized that it was perfect. I liked the ability to form relationships with patients, provide preventive care when called for and provide solutions, including surgical management, when needed.
Q: What inspired you to continue studying at Baylor?
A: By the time I was applying for residency, I'd been in Houston all my life. I really thought that I was going to leave for residency and applied fairly widely. But there just wasn't a program that compared to Baylor.
Q: What is the most valuable lesson you've learned?
A: Oh wow, that's a big question. I've learned a lot during my time at Baylor. If I had to pick, I'd say "trust yourself."
Q: Knowing what you know now, what would you tell your younger self?
A: It will be okay.
Q: What do you think makes Baylor unique?
A: So much. Its location in the Texas Medical Center makes Baylor unique and one of the very best places to work and train. But Baylor itself is full of amazing faculty, students, trainees, and staff that absolutely want to be the best and want Baylor to be the best.
Q: How has sticking with Baylor programs and, ultimately, becoming a faculty member impacted your life and career?
A: I don't think that I would be where I am today if it wasn't for Baylor. I've had such phenomenal training, the fortune of finding great mentors, and meeting people who have turned out to be my best friends.
Q: Do you have a mantra? If so, what is it?
A: Be the change you want to see.
Additional Resources
Read more from the Growing Up Baylor series.
Learn more about the Department of Obstetrics and Gynecology at Baylor.