Memory problems: Is it dementia or signs of normal aging?
Do you constantly walk around with notes reminding you to complete tasks or set cellphone reminders—today's version of a string tied around a finger—because you know that if you don't, you'll surely forget to do something? Do you often forget a new person's name promptly upon meeting him or her?
If you're starting to worry about your forgetfulness—or that of someone else in your life—then it'd be valuable for you to know the differences in signs of normal age versus signs of dementia.
The chart below signifies some of the normal signs of aging as opposed to the start of dementia or Alzheimer's disease.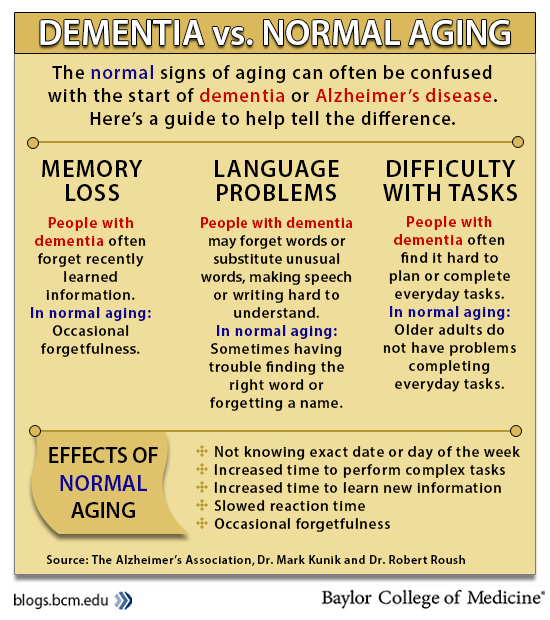 This information was provided as part of the recent Huffington Health Forum. In one presentation, BCM psychiatry professor Dr. Mark Kunik in the Menninger Department of Psychiatry and Behavioral Sciences and Dr. Robert Roush, associate professor at the Huffington Center on Aging at Baylor College of Medicine, spoke on the topic of how the aging brain affects our finances and what we can do about it.
The conclusion: Individuals with dementia have greater difficulty managing finances, and are more vulnerable to financial exploitation than are seniors without cognitive impairment.
Drs. Kunik and Roush say that ways we can keep our minds and memories sharp include physical activity, controlling medical and psychological problems, and other healthy lifestyle efforts such as maintaining a nutritious diet and staying socially active.
Another helpful resource includes Alzheimer's Facts and Figures provided by the Alzheimer's Association.
If you have any concerns that you, or someone in your life, may be experiencing any of the signs of dementia or Alzheimer's disease, check out the Alzheimer's Disease and Memory Disorders Center at Baylor.
-By Andy Phifer and Jordan Magaziner