Do medical schools provide adequate mental health care coverage for their students?
Medical schools hold an esteemed place in society, training the next generation of healthcare providers. But we know that these seminal years can be challenging, and medical students aren't immune from the rising mental health crisis. Quite the contrary. Studies suggest medical students experience high rates of anxiety, alcohol use, depression and suicidal ideation, but often don't receive the care they need.
Dr. J. Wesley Boyd, a psychiatrist and professor in the Center for Medical Ethics and Health Policy at Baylor College of Medicine, along with three Baylor medical students, reviewed data on health insurance offered by 138 of the 157 (87.9%) U.S. medical schools obtained from the schools' websites or via phone call. Their findings were recently published here in JAMA Internal Medicine. I sat down with Dr. Boyd to delve a little deeper into this study and the next steps.
1. Question: What was the impetus for this research?
Answer: I co-lead the popular Introduction to Health Policy elective at Baylor for first- and second-year medical students. Amelia Mercado, a first-year student, came to me not long after the class ended and said she'd like to engage in a research project. We brainstormed ideas and settled on doing a project that is close to home, namely mental health issues and psychological distress among medical students.
We know that medical students experience significant mental distress, including high rates of anxiety, alcohol use, depression and suicidal ideation, something that has only been exacerbated by the COVID-19 pandemic. The data also show that medical students don't always get care for these conditions when they need it. Although stigma and fear of professional repercussions might be reasons for them not receiving needed care, we wondered if they were provided proper insurance coverage by their schools that would allow them to do so. Research from over a decade ago showed that medical schools needed to ramp up coverage, but there wasn't current data about their mental health insurance coverage for medical students in our post-pandemic environment.
Amelia seized on researching this question and promptly brought in two of her Baylor classmates Karissa Chesky and Ananth Panchamukhi, to assist in the project.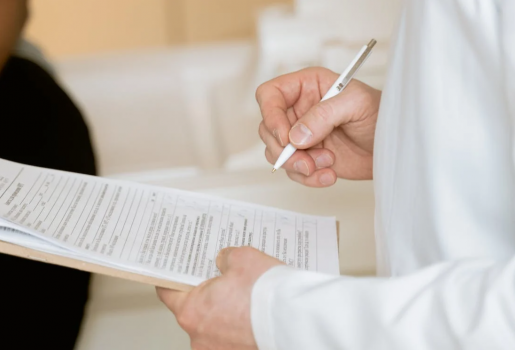 2. Question: What did you uncover and did it surprise you?
Answer: In early 2023, Amelia, Karissa and Ananth obtained data on health insurance offered by U.S. medical schools either from the schools' websites or via phone calls. Some schools were excluded because they did not offer their own insurance plan or allow public access.
For each plan, they recorded the following for both in-network and out-of-network: annual deductible (AD), out-of-pocket (OOP) maximum, and copayment and/or coinsurance amounts for mental health outpatient and inpatient services.
In total, we obtained data for 138 of the 157 (87.9%) U.S. medical schools. Overall, the median out-of-network AD was at least twice the median in-network AD. Western schools had the lowest costs for in-network AD and OOP, and southern schools had the most expensive median OOP whether in-network or out-of-network.
For in-network outpatient services, most schools required copayment without coinsurance, where the median copayment was $25. For out-of-network outpatient services, most schools required coinsurance without a copayment, where the median coinsurance was 40%. Lastly, for both in-network and out-of-network inpatient services, the majority of schools required coinsurance without copayment. For these schools, the median coinsurance doubled from in-network to out-of-network (20% to 40%). Most medical schools offered free therapy sessions (n=124), and the number of sessions allowed ranged from 1 to 48. Thirty-two schools offered unlimited sessions, and over half did not specify session limits.
I don't know that any of our findings were particularly surprising, but what is significant is that if students want to access fully confidential mental health care near their homes—as opposed to either at their schools or nearby their schools—it is likely that that care will be out-of-network and therefore potentially very expensive for students.
Also, even though it is laudable that so many schools offer free therapy sessions, students might have concerns about how confidential that treatment would be.
3. Question: What do you hope folks take away from this research?
Answer: Like many others, medical students have struggled during the pandemic, but they may not be receiving the mental health care they need.  As noted above, the reasons for not receiving care are likely multifactorial, but they may well include the expense given that, in general, the insurance plans that medical schools offer often have high out-of-network AD and OOP as well as significant cost sharing.
Because of these costs, students might be availing themselves of no-cost therapy sessions in their student health centers, even though they might have concerns about confidentiality and privacy when they do so.
Regardless, given that our next generation of healthcare providers have higher rates of depression than the general population, eliminating as many barriers as possible for them to receive treatment is essential.  Also, getting help as early as possible will prevent even greater mental health burdens in the future.
4. Question: What's next? What do you hope institutions take away from this? What other research is needed?
Answer: Although some medical schools do a great job of providing coverage for mental health conditions, that is not uniformly the case. As such, medical schools ought to improve mental health coverage by significantly lowering costs for students (especially when they opt to go out-of-network) and offering greater access to confidential, third-party therapy resources.
Future research is warranted to see if medical schools have made the changes that we recommend, given the long-standing demands of medical training compounded by the lasting, ill effects of the COVID-19 pandemic.
By Clarice Jacobson, senior business strategy and development associate, Center for Medical Ethics and Health Policy at Baylor College of Medicine
Editor Note: Learn more about Baylor Insurance and Baylor Student Benefits