Surgery patient gives back to hospital where her life was saved – TWICE
Houstonian Minnie Booker says she is forever grateful to the Baylor Medicine surgeons and Baylor St. Luke's Medical Center for saving her life – twice.
Booker says she had trouble breathing just from walking in 2018. She would walk to the bathroom while at work and have to sit and wait for 20 minutes just to catch her breath before going back to her desk. She finally went to the doctor to see what was happening. "I went to the doctor because of my difficulty breathing," Booker remembers. "He sent me to the ER, and they immediately took me back for a cath."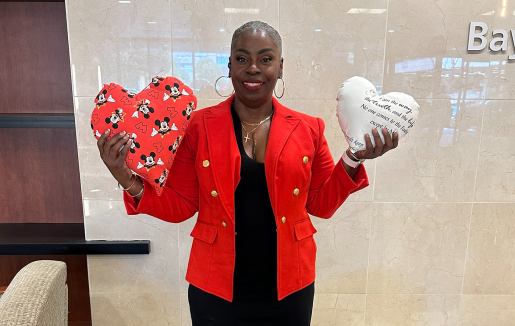 Booker had cardiac catheterization, also known as coronary angiogram, an imaging procedure performed to assess heart function. For this test, a catheter (a small tube) is inserted into a blood vessel in the arm or groin and advanced into the coronary arteries to detect issues. Doctors found Booker had 100% blockage of plaque, or cholesterol buildup, in her heart's biggest artery and needed emergency surgery to restore blood flow. A Baylor surgeon performed the surgery and placed a stent at Baylor St. Luke's Medical Center.
After that, she was healthy and living her life, Booker says. She was exercising, had lost 47 pounds and walked five miles a day. But during an exercise class in 2019, she couldn't catch her breath. She thought it was her heart, but after consulting with her cardiologist and undergoing tests, she learned she had a mass in her chest. Although the tumor was not cancerous, it could become cancerous and must be removed. Dr. Shawn Groth, thoracic surgeon and associate professor at Baylor College of Medicine, performed the chest tumor removal at Baylor St. Luke's Medical Center.
"My chest had to be cracked open," Booker remembers. "I survived that. I want to give back as much as possible."
During her recovery, Booker received a pillow. "They gave me this ugly heart thing to use for pressure. I thought, 'I need to find out if I can donate pillows." I was going to buy some pillows but then decided to do more than that."
Booker ended up organizing a project that produced more than 100 heart pillows. Enlisting the help of WOW Women's Ministry of Greater Vision Church, a women's group at her church, she gathered donations to buy fabric and recruited volunteers to sew the heart pillows.
She donated the pillows to Baylor St. Luke's Medical Center but hopes to grow the efforts into a nonprofit and take pillows to Texas Children's Hospital and elsewhere.
"I created the project because I wanted to give back something to these extraordinary surgeons who saved my life twice and just spread as much love as I can," Booker says.
By Tiffany Harston, communications associate with the Michael E. DeBakey Department of Surgery