Heart surgeon reaches historic milestone: 500 robotic heart surgeries performed
Heart surgeon Dr. Kenneth K. Liao, professor and chief of the division of cardiothoracic transplantation and circulatory support in the Michael E. DeBakey Department of Surgery, performed his 500th robotic heart surgery in July. He is among only a handful of highly experienced robotic cardiac surgeons in the United States using it.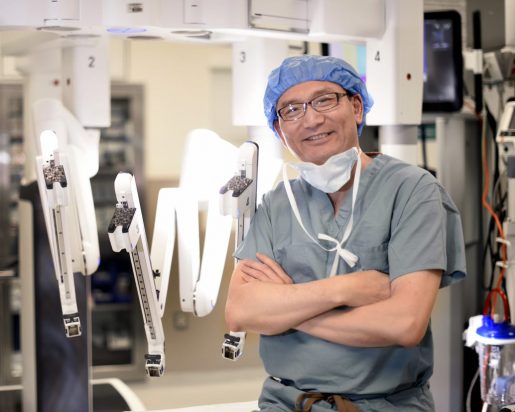 The Baylor St. Luke's robotic cardiac surgery program at Texas Heart Institute is among the top 10 programs in the U.S. Since Liao's arrival at Texas Heart Institute at Baylor St. Luke's Medical Center in 2019, he has performed over 500 robotic heart surgeries, making it the fastest-growing program in the country.
"This is a huge milestone for us and our patients," says Liao. "More and more cardiologists are referring their patients to us for robotic cardiac surgery because they have seen the benefits for the patients, including small incision, less blood loss and a quicker return to normal life."
The advanced robotic technology uses 3D high-definition scope and robot-controlled fine instruments inside the chest, which allows Liao to perform precise, gentle and complex surgical maneuvers inside the heart. The advantages of robotic cardiac surgery include very small incisions through the rib space, less blood loss, less pain, lower risk of stroke and wound infection and quicker recovery.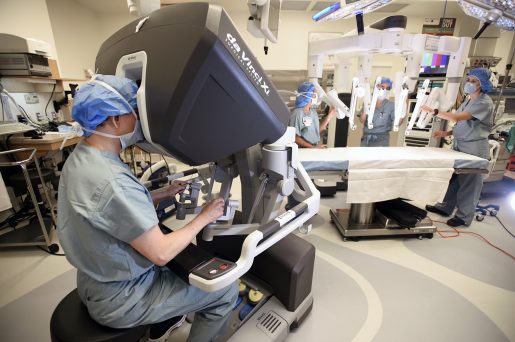 Liao and his team perform the two most common robotic surgeries using the robot:
Mitral Valve Repair: surgeon corrects the mitral valve's abnormal structure and function by removing excessive valve tissue, reshaping and reconstructing the valve and/or adding a band or ring to strengthen it.
Coronary Artery Bypass Grafting: treatment for coronary artery disease by harvesting one or two native healthy arteries inside chest wall and attaching it to the coronary artery to bypass the blockage and improve blood flow to the heart. The bypass surgery is performed while the heart is beating.
For Liao, performing robotic heart surgery is a daily routine. In fact, Liao has been performing these procedures for the past 18 years. As soon as the United States Food and Drug Administration approved it for use on humans, Liao embraced robotic surgical technology.
"Everything we see inside chest and heart is magnified 10 times, so we can see valve pathology and artery anatomy much better than naked eyes and repair the disease segment very precisely," Liao explains. "The technology allows the surgeon to perform the surgery without putting their hands into patient's chest because everything is done through fine tipped instruments. This results in minimal trauma to the patient's tissue, minimal blood loss and faster recovery."
Learn more about Baylor Medicine cardiovascular care. 
By Tiffany Harston, communications associate with the Michael E. DeBakey Department of Surgery