Here's your back-to-school vaccination schedule
Backpacks, pencils and markers may be on your child's back-to-school checklist, but don't forget to schedule vaccinations before the start of the school year. An expert at Baylor College of Medicine explains the proper vaccination schedule.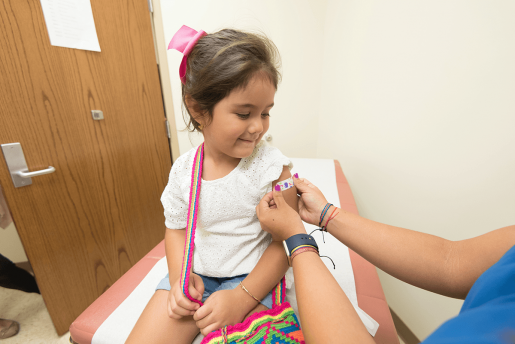 "Vaccines are very important, preventive health measures. They protect your child and others you care about, including family members and friends," said Dr. Chinwe Nwokocha, assistant professor of family and community medicine at Baylor. "There are some life-threatening diseases such as measles and tetanus that are still common and a threat to your health, and vaccines are the best way to fight against them."
Adolescents 7 to 18 years should get several vaccines throughout their pre-college years:
Birth to 15 months: Hepatitis B, Rotavirus, DTap (Diphtheria, Tetanus, and pertussis), Hemophilus influenza B, PCV13, IPV (Polio), Flu, MMR (Measles, mumps, rubella), varicella, Hepatitis A, and meningococcal vaccines
18 months to six years: Before elementary school, children should receive the final doses of the Hep B, DTap, IPV, MMR, Varicella and Hepatitis A vaccines.
10 years: Upon entering middle school, children can get their Tdap booster, start their HPV series, their Meningococcal and Pneumococcal Polysaccharide Vaccine (PPSV23) for special situations.
The best way to keep track of these vaccines is through official records at the child's doctor's office, Nwokocha said. An immunization log will also be given to parents, and there are state or local immunization registries that may also receive these records. It is especially important to have these records if families move around.
"Some tips on keeping track of these records include being sure to bring them to each place where the vaccine will be administered, saving old baby books that have these records and checking with previously attended schools, as sometimes they will have the records," Nwokocha said.
Timing of vaccinations is important as they are administered when the child is most susceptible to the disease they are being vaccinated against. Missing or delaying a dose increases the risk of a child getting sick. Additionally, boosters are administered through adolescence as immunity fades over time, and these supplemental shots help to build the immunity to fight against disease.
Aside from vaccines administered during childhood, Nwokocha encourages families to get their flu vaccines every year.
"The structure of the flu virus is constantly changing, so it's necessary to get vaccinated every year to protect yourself and others, such as children, the elderly and people with heart or lung conditions, since they are at a high risk of serious disease if infected," said Nwokocha. "Plan a visit to your doctor's office or community health clinic every flu season."
By Aaron Nieto