Integrating the humanities into medical education
It's truly exciting to be working at the intersection of arts and medicine in this vibrant and expanding field. There is an increasing realization today that clinical practice is both an art and a science, and integrating the humanities into medical education is essential to producing well-rounded health professionals who are skilled, caring, open-minded and compassionate.
My work in medical humanities officially began in September 2022, but I have long believed that physical, emotional, mental and spiritual health are inextricably linked, and that art is not a luxury, but a necessity in our lives. As a visual artist and educator, I have experienced and witnessed the power of art to move, energize and heal. I see how our hospitals' visual, dance, music and drama programs can reduce stress, develop creativity, produce joy and prevent burnout in healthcare workers. Certain programs stand out for these qualities. A splatter art project for highly stressed emergency room nurses drew rave reviews for providing welcome relief and enjoyment and building teamwork. Another project that generated hugely positive responses was the Bloom Project, a crosswalk mural featuring staff-created drawings of flowers. It was instrumental in developing collaboration, satisfaction and pride.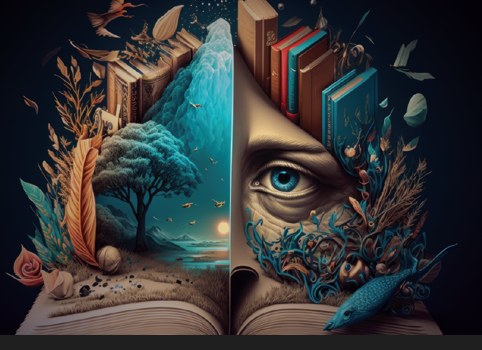 Among the many unsung benefits of the medical humanities is the way it promotes mutual understanding, respect and appreciation between employees in different healthcare sectors. For example, an improv class may include surgeons, environmental service technicians, nurses and stewards. This group might not meet or mingle during an ordinary shift, but they leave a session of creating comedy together with new-found regard for each other's occupational and extracurricular talents.
I've often been asked what motivated my choice of medical humanities as a career and how that has affected my artistic focus. To be honest, I didn't so much choose this field as it chose me. I had positive experiences creating art installations around Houston, and I saw working directly at a hospital and collaborating with other medical institutions like Baylor as an opportunity to further the integration of arts and medicine and find scope to expand my own themes of identity, mobility and social justice.
To me, art is a superb medium for exposing problems, kindling difficult conversations and presenting solutions for a myriad of social issues. In my upcoming solo show, Covid Masks and Unmasks, I address the role of the pandemic in revealing and exacerbating disparities in healthcare access in Houston. Through art, I challenge viewers to recognize and redress social policies and attitudes that negate human equality and dignity. I also encourage them to uphold hope and faith that problems can be fixed. To quote author Bell Hooks, "There is light in darkness."
-By Melissa Aytenfisu, B.ED., B.F.A., Project Specialist, Center for Performing Arts Medicine at Houston Methodist Hospital
Want to learn more about this topic? Check out our upcoming Grand Rounds on May 17 at 5 p.m. CT "How the Arts and Humanities Can Help Build Trust and Demonstrate Compassion" featuring Melissa Aytenfisu, B.ED., B.F.A., Project Specialist, Center for Performing Arts Medicine at Houston Methodist Hospital along with Ricardo Nuila, M.D., Associate Professor of Medicine, Director of Humanities Expression and Arts Lab (HEAL) at Baylor College of Medicine and Ramiro Salas, Ph.D., Associate Professor, Department of Psychiatry Research at Baylor College of Medicine. View flyer for more details. Register here.