As pediatricians, we advocate banning flavored e-cigarettes to halt vaping trends
Electronic cigarettes are endangering the lives of teenagers. We have seen it firsthand as pediatricians. These products have a variety of names, including e-cigarettes, vapes, JUUL, Elf Bar, Mr. Fog and others. In their most basic form, they consist of three parts: a battery, a heating element and a container for e-liquid. The heated liquid produces an aerosol, which is then inhaled, exposing the user and bystanders to toxic chemicals.
The 2022 National Youth Tobacco Survey found that 14.1% of high school students and 3.3% of middle school students had used e-cigarettes in the previous 30 days.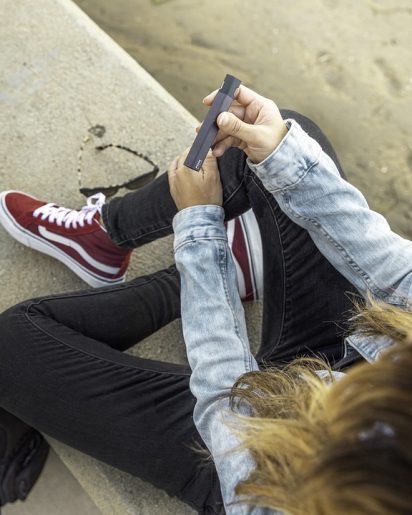 Unfortunately, there has been little regulation to keep these products out of the hands of children. Meanwhile, e-cigarette companies have targeted youth, offering thousands of different kid-friendly flavors such as fruit, candy and dessert options.
Patients have told us that they enjoy the flavors and would stop smoking if they were not available. We have seen patients swear they are only vaping "harmless flavored vapor," not realizing they are also vaping highly addictive nicotine and toxins. Unfortunately, we have also seen healthy teenagers require ICU-level breathing support due to a vaping-related lung injury. Most pediatricians have similar experiences.
The FDA has attempted to regulate these products, but more public support and funding are needed if meaningful change is to be achieved. Certain flavored cartridge-based e-cigarettes were prohibited in 2020, but then e-cigarette companies made comparable products by exploiting loopholes in these regulations. For example, the prohibition of cartridge-based products resulted in increased sales of disposable products and tank-based systems. Most youth today use these disposable systems. Furthermore, prohibiting certain flavors pushed young people toward flavors that were not prohibited, such as menthol. Although the FDA ban in 2020 was ineffective, we can still finish what we started. We, alongside health-focused organizations such as the American Academy of Pediatrics, the American Lung Association, the American Cancer Society and the American Heart Association, advocate for a ban on all flavors in e-cigarettes, including menthol.
The evidence of vaping's detrimental consequences is increasing rapidly. The chemicals that make up flavors were intended as food components, not as something to be inhaled. A number of studies have found the carcinogens acrolein and formaldehyde in e-liquids, among other dangerous chemicals. In a recent scientific statement, the American Heart Association linked vaping to systemic inflammation, changes in blood vessels, increased blood pressure, and irreversible lung damage. There is concern that teen vapers may never reach their full lung potential.
The companies that sell these products claim that they exist to help adult cigarette smokers quit smoking; however, there is no evidence that adults require fruit and candy flavors to quit smoking. These flavors create a "substantial risk with regard to youth appeal, uptake and use; in contrast, data indicate tobacco-flavored e-cigarettes do not have the same appeal to youth," according to a recent FDA announcement. This risk is exacerbated by the fact that young people who use e-cigarettes are more likely to become traditional cigarette smokers in the future. This will have devastating impacts, including an increase in COPD, lung cancer, heart attacks and strokes.
E-cigarettes are delivering toxic chemicals to our youth at alarming rates and one of the main drivers of youth use is enticing flavors. We have significantly lowered the use of traditional cigarettes in our youth over the last few decades as a society, and it is time to do so again. In 2009, the United States banned flavors in traditional cigarettes. The prohibition of all flavored e-cigarettes will be an important next step.
By Drs. Arjun Dipak Patel, medical resident in pediatrics, and Lindy U McGee, assistant professor of pediatrics at Baylor College of Medicine
Note in 2019, Baylor College of Medicine issued a Position Statement on "Taking Action to Address Youth Smoking and Vaping"