Baylor surgeons aim to improve colorectal cancer care through research
Colorectal surgeons at Baylor College of Medicine are leading several ongoing, cutting-edge research projects that aim to enhance patient care. Not only does Baylor provide individualized, patient-centric care, but the research highlighted below puts Baylor at the forefront of evidence-based, research-driven, cutting-edge colorectal cancer care in the nation.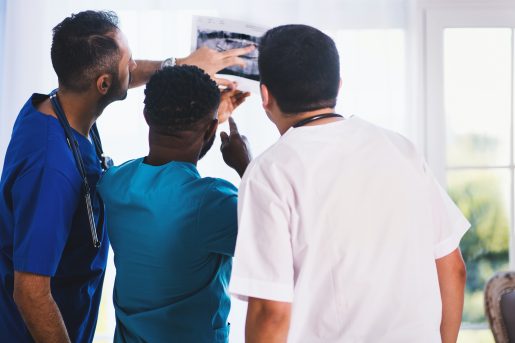 Does circulating tumor DNA have a role in the future of colorectal cancer treatment?
Two National Cancer Institute studies being co-led by Baylor colorectal surgeons Dr. Atif Iqbal and Dr. Yesenia Rojas-Khalil are trying to determine if circulating tumor DNA (CtDNA) has a role in colorectal cancer treatment. CtDNA is a new blood test that looks at specific tumor cells circulating in the blood.
"There's a lot of promise around circulating tumor DNA being the next big thing in colorectal cancer care," explains Iqbal, associate professor and chief of colorectal surgery. "Currently, cancer staging and the need for chemotherapy is determined by presence of cancer in the lymph nodes. This blood test has the potential to be better than anything we currently have in our arsenal, possibly even better than testing lymph nodes, to determine the need for further chemotherapy. There has not been a national randomized trial to answer this very important question, so that is what we are doing."
Baylor colorectal surgeons are leading these National Cancer Institute trials with about 250 sites working on two studies related to CtDNA:
One trial is looking at patients with stage 2 colon cancer that typically do not get chemotherapy. Circulating tumor DNA would be used in this trial to see if there is benefit of chemotherapy in patients who test positive for ctDNA.
The second trial is looking at patients with stage 3 cancer that usually get chemotherapy. The possibility of avoiding chemotherapy if the patient tests negative for ctDNA is being investigated.
"It's interesting because the ctDNA test is already FDA and insurance approved, but we have not done the necessary research to let us know how to interpret the test and use it to improve patient outcomes," Iqbal says. "This is leading to wide variability in test interpretation and treatment after testing in the community, which is not in the best interest of patients."
Improving the accuracy of predicting pre-surgical treatment response and improving outcomes for patients with rectal cancer
Patients with rectal cancer usually need chemotherapy and radiation before surgery but have different degrees of responses to treatment. The degree of response determines the need and type of surgery needed.
"Some patients respond really well, while others have no response to chemoradiation," says Iqbal. "It would be great to know which patients are going to respond and why, so we can alter treatment for the best response and improving patient outcomes."
Through this study, researchers are trying to learn what affects the degree of response in patients and ultimately be able to predict how patients will respond to treatment prior to surgery.
Does 'prehabilitation' improve patient outcomes, and can we improve patient compliance with the use of novel at-home devices?
Prehabilitation, or physical therapy prior to surgery, has been shown to improve postoperative outcomes. However, compliance with physical therapy exercises before surgery is poor for various reasons. Baylor colorectal surgeons want to study the efficacy of prehabilitation in colorectal cancer patients needing surgery using a novel tool that gamifies these desired behaviors. They hope that this in-home gamified exercise tool would increase the use and compliance with exercise regimens and eventually postoperative patient outcomes.
"From a cancer standpoint there's a lot of talk about prehab and how it impacts surgery outcomes," says Iqbal. "I always tell my patients that surgery is like running for a marathon, which of course you would prepare your body for by training, but we don't do that when it comes to surgery. We take them from their couch or wheelchair and expect them to do well. That is not fair."
For this study, researchers are providing a tablet game that makes the patient move and exercise before surgery to see if it improves the wellness of the patient after surgery. The study is looking at the impact of not only prehabilitation but interactive gaming as a tool to motivate and increase compliance.
Learn more about Baylor Medicine colorectal surgery services. 
By Tiffany Harston, communications associate with the Michael E. DeBakey Department of Surgery.