General surgery resident research to improve survival of children with Wilms Tumor in Malawi
Baylor College of Medicine residents are contributing to research aimed at improving treatment for diseases around the world. Specifically, Dr. David Holmes, contributed to a research project looking at treatment outcomes for Wilms Tumor in Malawi.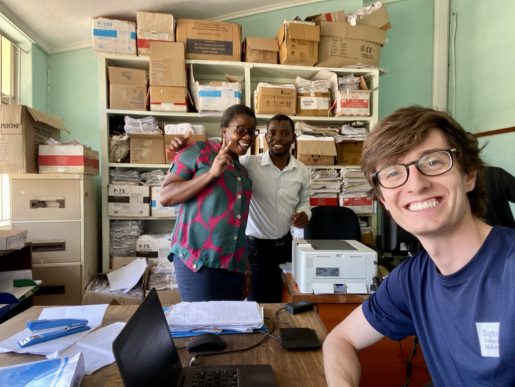 Holmes is a general surgery resident in the Michael E. DeBakey Department of Surgery. He is a part of the global surgery track, a program that commits an additional two years to the traditional five years of general surgery training to working abroad in low-income countries and resource-limited environments. It is the only National Resident Matching Program (NRMP) recognized global surgery track in the nation, and residents are involved in research, education and advocacy projects at the regional and global level.
As part of his global surgery rotations, Holmes spent time in Malawi caring for patients, developing essential surgical skills and conducting clinical research. One of his research projects sought to evaluate the impact of a resource-adapted treatment protocol in Malawi for the treatment of Wilms Tumor, a disease that continues to have high fatality in children in low-income countries.
What is Wilms Tumor?
Wilms Tumor is the most common renal cancer in children worldwide and is the most common non-hematologic malignancy diagnosed in African children. In high-income countries, advances in therapy have achieved long-term survival in more than 90% of children. This success is attributable to early diagnosis, multidisciplinary risk-adapted therapy and well-resourced supportive care infrastructure. Similar outcomes have not been realized in low- and middle-income countries where most pediatric cancer occurs, particularly in sub-Saharan Africa where long-term survival remains between 20-50%. However, Wilms Tumor is a highly curable disease with well-established surgical techniques and chemotherapy that is widely available, relatively inexpensive and reasonably well tolerated. Wilms Tumor therefore is ideally suited for a cure, even in resource-limited settings like Malawi.
Study Goals
With the overarching goal of improving the survival of children with Wilms Tumor, the aims of the study Holmes worked on were:
To report the outcomes of six years' experience (2016-2021) treating Wilms tumor with a resource-adapted protocol in Malawi at Kamuzu Central Hospital (KCH) and
Identify high-impact targets and research questions for future research and clinical trials.
Some of the resource limitations facing KCH, which serves 9 million people, are limited pediatric intensive care, inconsistent blood product availability, high patient-to-nurse ratios and no available radiation therapy in the country.
Study Findings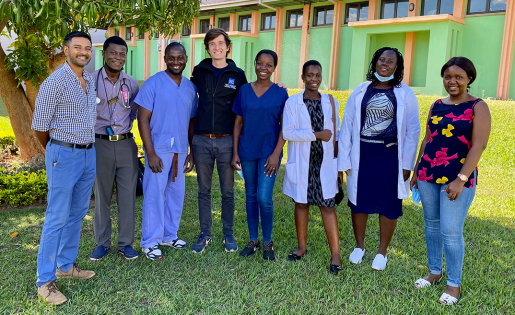 The study Holmes worked on in collaboration with other researchers showed the overall survival of patients treated for Wilms Tumor at KCH was only 48% at two years following diagnosis. There were three significant barriers to the treatment of Wilms tumor that contributed to these low rates of survival: late diagnosis, high treatment abandonment rates and lack of available radiation therapy.
Late Diagnosis
Two-thirds of patients diagnosed with Wilms Tumor at KCH presented with stage III or IV (metastatic) disease. Presenting with late-stage disease had a direct impact on patient's chance of survival. Those who presented with early, stage I disease had a two-year survival rate of 78%, while those diagnosed with metastatic stage IV disease had a much lower two-year survival rate of only 23%. Ways to address delayed presentation include media engagement, public health education programs and engaging with regional traditional healers.
High Abandonment
Over a quarter of all patients diagnosed with Wilms Tumor at KCH abandoned treatment prior to completing therapy. Defined as an unplanned hiatus of four or more weeks in the scheduled therapy plan, treatment abandonment should be considered a fatal event in low-resource settings.
Survival rates for stage I disease decreased to 60% (event-free survival) from 78% (overall survival) primarily due to abandonment. Therefore, addressing treatment abandonment must be an important component in adapting protocols in low resource settings.
Lack of Radiotherapy
Radiotherapy remains absent in nearly half of African countries, including Malawi. This is problematic as it is central to modern protocols for the treatment of high-risk and relapsed Wilms Tumor, yet only three out of 55 patients in the study for whom it was indicated received it. Patients needing radiotherapy are required to travel to neighboring countries and pay out of pocket, something that is not possible for most families. Cancer centers in Africa often compensate for the lack of radiotherapy by increasing the duration and intensity of chemotherapy, yet this study showed doing so did not improve survival rates and had higher rates of patient abandonment.
Aside from working with governments and ministries of health to increase radiotherapy capacity, one potential strategy to compensate for lack of radiotherapy is to pursue more aggressive surgical care for patients with metastatic disease.
Conclusion
Survival rates of children with Wilms Tumor in Malawi is a stark reminder that the greatest factor for Wilms tumor survival is local treatment capacity rather than tumor biology. Capacity-building programs in sub-Saharan Africa have resulted in favorable outcomes among children with low-stage disease and those who complete therapy, but factors such as advanced disease at diagnosis, high abandonment rates, and lack of available radiotherapy represent the important scientific, public health and capacity-building efforts yet to be sufficiently addressed.
Dr. David Holmes, general surgery resident, and Tiffany Harston, communications associate in the Michael E. DeBakey Department of Surgery at Baylor College of Medicine