What you need to know about glioblastoma
According to the National Brain Tumor Society, more than 13,000 Americans will be diagnosed with glioblastoma in 2022. But what exactly is glioblastoma and how is it treated? Dr. Jacob Mandel, assistant professor of neurology and member of the Dan L Duncan Comprehensive Cancer Center, answers these and other questions about this disease.
What is glioblastoma?
Glioblastoma is the most common malignant primary brain tumor in adults. It has a median age of onset of around 55-60 years of age but can occur in patients much younger or older.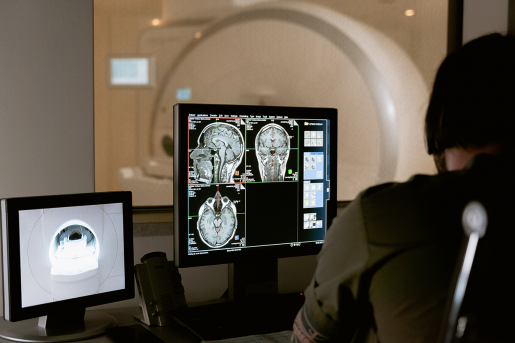 What are the factors that can increase risk?
Glioblastoma is most often thought to be a sporadic occurrence and the majority of patients with glioblastoma have no family history of brain tumors or identifiable risk factors for brain cancer. Rarely, glioblastoma can be related to a tumor predisposition syndrome like Li-Fraumeni syndrome or Lynch syndrome. Additionally, ionizing radiation to the brain given as treatment for childhood brain tumors or leukemia can potentially predispose patients to developing a glioblastoma later in life.
What symptoms should patients look for?
Glioblastoma can present with a variety of symptoms based on the location of the tumor. Possible concerning symptoms include headaches, nausea/vomiting, visual changes, weakness, numbness or tingling, cognitive changes, bowel or bladder issues, seizures and trouble walking.
How is glioblastoma diagnosed?
Diagnosis is suspected based on neurological symptoms and MRI,  which reveals a mass that is concerning for a brain tumor. A tissue diagnosis is essential, and patients will undergo surgery or a biopsy to obtain tumor tissue to send to the pathologist to establish the diagnosis.
How is it treated?
Standard of care is to first surgically remove as much of the tumor as safely possible and then patients receive radiation and chemotherapy. Concurrent chemoradiation with daily chemotherapy is given for 6 weeks followed by up to 12 cycles of adjuvant chemotherapy. If patients are eligible, clinical trial participation is encouraged.
What advice would you give to patients who have been diagnosed?
Being diagnosed with an aggressive brain cancer can be overwhelming for a patient and their families/caregivers. It is essential to be managed by a multidisciplinary team of experts experienced in treating glioblastoma patients that the patient and family trusts to help guide their care.
Learn more about brain and spinal cancer treatment at the Dan L Duncan Comprehensive Cancer Center at Baylor St. Luke's Medical Center.
By Anna Kiappes