Reimagine what our world's potential can be
What more can we do to make a difference, not only in our own lives but in the lives of people all over the world? Here we highlight three recent talks as part of Baylor College of Medicine's first-ever TEDx event that imagine a future that could be or will be different than what was thought destined.
Dr. Ronald Cotton, associate professor of Surgery and director of the General Surgery Residency Program at Baylor College of Medicine, outlines three lessons from the operating room on how to change your mind's mind and shift your perspective in a hugely impactful way. Changing Your Mind's Mind: Lessons from A Surgeon In Overcoming Obstacles
Dr. Dorit Donoviel, director of the (TRISH) associate professor in the Department of Pharmacology and Chemical Biology and the Center for Space Medicine at Baylor College of Medicine, describes how space is a wonderful laboratory to study the human body and that by figuring out how to detect and prevent medical conditions from what is happening in space, we are making incredible insights in to how to keep humans healthy here on Earth. Space Innovations Lead to a Healthier Life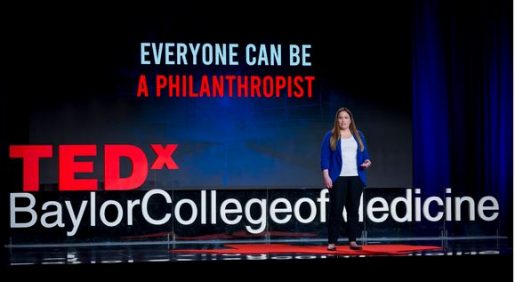 Kelly Hackett, J.D., managing director of the Tectonic Advisors Family Office team, demonstrates that no matter who we are or what we have, everyone can be a philanthropist. She describes her belief that giving is good for the world and for each of us, and the only requirement is a willingness to love one another. Everyone Can Be A Philanthropist
Check out all of the talks from our recent TEDx event here and help us spread ideas that matter by  sharing this with your networks!
-By Clarice Jacobson, senior business strategy & development associate, Center for Medical Ethics and Health Policy, Baylor College of Medicine