Dr. Marc Moon gets to the heart of patient care
Dr. Marc Moon, an expert and pioneer in the most advanced forms of cardiac surgery, was recently appointed as chief of the division of cardiothoracic surgery at Baylor College of Medicine, chief of the adult cardiac surgery section at Baylor St. Luke's Medical Center and chief of adult cardiac surgery at Texas Heart Institute.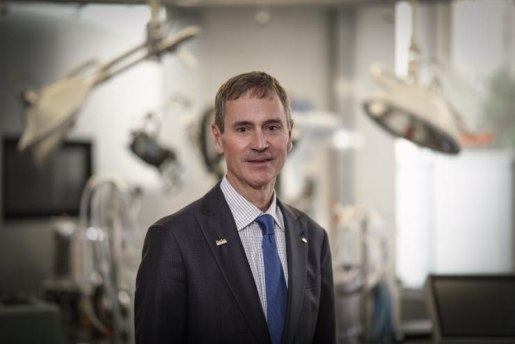 He comes to Houston from Washington University School of Medicine, where he was previously the chief of cardiac surgery, director of the Center for Diseases of the Thoracic Aorta, co-director of the heart and vascular center and surgical lead of the Center for Women's Heart Disease. Dr. Moon specializes in aortic and valve surgery and sees some of the most complex cardiac surgery cases, including performing cardiac procedures in pregnant women. He has been in practice in St. Louis for more than 20 years.
Dr. Moon has said that while we have come to the point where cardiac surgery is considered routine in many circumstances, it's never routine for the patient who's undergoing that operation. We recently asked Dr. Moon about his path as a surgeon and his philosophy when it comes to patient care.
Q: Why did you go into medicine?
A: My mother used to get me a doctor's bag or a stethoscope for Christmas when I was three or four years old, so I think my interest started with that. What really got me interested in surgery specifically was working in the trauma unit at DMC Detroit Receiving Hospital. It was an incredible experience, taking care of people with all sorts of injuries and surgical problems. Cardiothoracic surgery then evolved as the highest level of surgery that was offered, providing the most intense care for patients and the biggest opportunity to impact patients and their outcomes.
Q: Where did you train for cardiothoracic surgery?
A: I did my cardiothoracic training at Stanford in California and at that time everyone on the faculty had trained at Stanford. It was a great experience in that everyone did everything the exact same way, but there's always an impact from getting an outside influence that doesn't necessarily turn the system upside down, but it adds tweaks here and there to potentially move medicine forward.
Q: What does patient care mean to you?
A: It really means caring for the patient. It actually goes beyond the patients themselves; it includes their families and taking care of their needs as well. When a patient gets referred to me, I'm not going to just take over the care of the patient in its entirety. I'm going to work with the primary care physician and the cardiologist in order to get the best outcome that we can for that patient and whatever their needs may be.
Q: What is your personal mission as a surgeon?
A: It's not necessarily to perform surgery on every single patient. I'd say that the majority of patients that are referred to a surgeon can actually be treated with lesser invasive means. The ultimate goal is to match individual patients with personalized treatment that gives them the best long-term outcome.
Additional Resources
Learn more about the Division of Cardiothoracic Surgery at Baylor College of Medicine and Baylor Medicine cardiovascular care.
-By Bertie Taylor, senior writer in the Michael E. DeBakey Department of Surgery at Baylor College of Medicine