Skincare 102: skincare based on skin types
This is the second in an ongoing series on caring for your skin.
Finding the right products for your skin type can be a challenge. A licensed aesthetician helps break down the main skin types and which products to incorporate into your skincare routine.
Kim Chang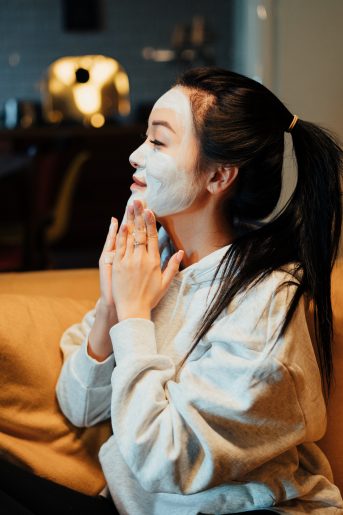 , a licensed aesthetician with the Aesthetics Studio at Baylor Medicine, explains that there are three common skin types (oily, dry and dehydrated skin) but there is no "one type fits all." Each person has a subtype that will determine which additional products to use for treating specific concerns. Subtypes can include aging, hyperpigmented, acne prone, and sensitive skin.
"Skin types are not so straight forward because everybody has  a combination," Chang said. "We also need to consider other factors, such as whether we are experiencing stress or hormonal changes, are traveling, and weather or pollutants in the air."
Although there is a wide range of skincare products available, Chang adds that everyone should at least find a cleanser, moisturizer and sunscreen that is specific to their skin.
Oily
Oily skin normally has a shiny appearance due to excess oil and is prone to blackheads and other breakouts.
Use a foaming gel cleanser that will help balance and control the oils. Avoid milky and oil based cleansers.
Those with oily skin might be tempted to avoid a moisturizer, but it is important to rehydrate the skin after using a cleanser that strips excess oils. Incorporate a gel moisturizer or find a hydrating serum that balances the skin.
It may seem that sunscreens make oily skin feel greasy, but there are a variety of sunscreens that benefit oily skin. Micronized zinc is a common ingredient in sunscreens that applies smoothly on the skin without leaving a gray/white cast., It may also help avoid breakouts and can be used on all skin types.
If you want to add an extra product, Chang recommends incorporating a clay mask since it helps to balance the oil in skin
Dry
Those who struggle with dry skin will often see peeling or dead skin flaking off. Products for dry skin will help prevent stripping the skin of natural oils.
Use a milky, creamy or oil-based cleanser. Chang adds that cleansing oils are best for those with dry, flaky skin and most can also be used on the body.
Oil-based serums might benefit dry skin rather than just a moisturizer since it will further correct the dryness.
There are many sunscreens that include moisturizing ingredients like hyaluronic acid that will avoid drying out the skin.
To remove dry skin flakes or peeling, incorporate a gentle exfoliator with granules like jojoba beads to lift off the dead skin or lactic acid that can improve a healthier barrier function
Dehydrated
Don't confuse dehydrated and dry skin – they are not the same. The main difference is that dehydrated skin feels tight and looks shiny due to lacking water versus lacking natural oils in dry skin which causes flakiness and peeling. Although the routine for dehydrated skin is similar to dry skin, it is important to incorporate products that add hydration back into the skin.
The exact reason is not clear on why skin becomes dehydrated, Chang explains,. but it could be due to using products that are too aggressive for your skin.
Like those experiencing dryness, dehydrated skin should use also creamy or milky cleansers.
Use warm, tepid water when cleansing, showering or bathing. Avoid using hot water on the skin.
Incorporate humectants like  hyaluronic acid, sodium hyaluronate, or glycerin that help retain moisture in the skin.
All skin types
Few products are suited for all skin types, but Chang explains that an antioxidant serum like vitamin C and sunscreen are essential for every skin type.
"Antioxidants help protect the skin from formation of free radicals which can lead to premature aging," she said. "Sunscreen not only protects you from a sunburn, but also skin cancer."
Chang adds that changes in the skin can sometimes signal an underlying issue. Remember to visit a dermatologist or primary care doctor if there are concerns with fluctuations in your skin.
By Kaylee Dusang