Down syndrome awareness: Addressing misconceptions and advancing inclusion
As he approached adulthood, Zachary Smith's pediatrician told him about the Transition Medicine Clinic at Baylor Medicine and how it was an ideal space for patients like himself to branch outside of pediatrics. The clinic provides medical care and support services to the growing population of young adults with chronic childhood illness or disability as they move from pediatric to adult healthcare. Zachary's first doctor at Baylor was Dr. Kathryn Jordan Kemere, and he has been her patient for three years.
Kemere, who is an assistant professor of transition medicine in the Department of Medicine at Baylor, and Zachary share the importance of raising awareness and inclusion of individuals with Down syndrome in the following Q&A.
Q: What are some common misconceptions related to people with special needs?
Zachary: Many people think people with special needs are dumb, stupid, and make mistakes. Sometimes we make mistakes, but we're human and most people are dumb and stupid sometimes.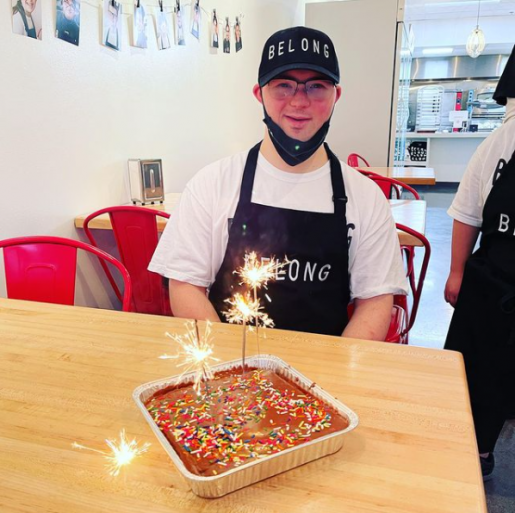 Dr. Kemere: I've seen time and again special needs people who have jobs, volunteer or learn new skills. People with Down syndrome can continue to grow and change, and they have an ability to work and support their loved ones like everyone else.
Q: What is some advice for families who are coping with a Down syndrome diagnosis?
Zachary: I would tell other families that their child will grow up to do amazing things, like go to college, get an education, and be a normal person like they are. We all grow up to achieve amazing things in life.
Dr. Kemere: Raise them like any other child and keep an open mind about their abilities. Most of my patients have outstanding strengths. It's a great idea to connect with a family group and older children with Down syndrome to see the range of possibilities.
Q: What is the most rewarding part of your job?
Dr. Kemere: Seeing how my patients and their families overcome obstacles. In the process, I get the opportunity to serve other people in a way that is inspiring for me.
Q: What do you like to do for fun?
Zachary: I like to go to the theatre, exercise, and spend time with my family. My sister has been teaching fifth graders with special needs for two years in Hawaii with Teach for America, so I like to travel to see her. I enjoy reading books, especially history books or biographies of famous historical figures.
Q: What do you want others to know about being differently abled?
Zachary: When you see someone with special needs, you probably don't know them well enough to judge. You can learn a whole lot more about us if you get to know us.
Dr. Kemere: I have learned that you can't make assumptions based on someone's appearance. It just takes some time to listen to see people's strengths.
-By Kathleen Franks, senior communications and corporate affairs associate with the Department of Medicine at Baylor College of Medicine