SMART students share their research experience in Baylor's second elevator pitch competition
The stage was set as eight bright undergraduate students prepared to present their research projects to a panel of judges, friends and various members of the Baylor family. These students form part of the Summer Undergraduate Research Training, or SMART Program, at Baylor. SMART students are given the opportunity to experience biomedicine research firsthand throughout the program as they work in the lab alongside experts from Baylor. For nine weeks, these undergraduates are given real-world experience conducting research, an opportunity to grow in their careers, and to network.
In the SMART program's elevator pitch competition, 24 students put their skills to the test as they presented research projects they were working on in the lab. Participants were given 90 seconds to present their research in a way that various audiences could understand. This encouraged the use of examples and specific language for a clearer comprehension from someone that may not have the scientific knowledge.

For the preliminary stages, students presented remotely via video, from where judges were given the task of picking which students would advance from the tough competition. The final eight would present their research in person. From this group, the judges selected the final four.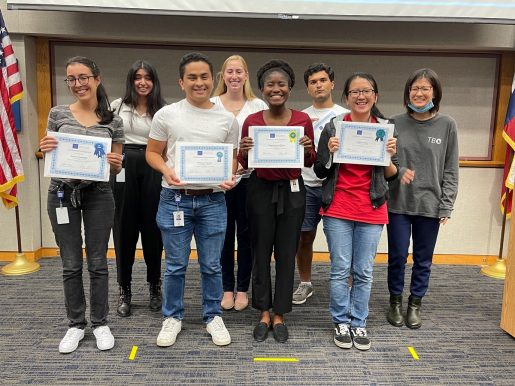 The final four
One of the first to present was Luiza Coutinho, a Brazilian biology major from Rhodes College in Tennessee. Her presentation titled, "Controlling cell division in cancer," looked at a potential way to control cancer growth.
"We already know that cancer cells divide uncontrollably and nonstop," said Coutinho. "Whenever our cells divide, there is a protein called separase that is responsible for separating our DNA, an important step in cell division. One goal of my project is to find a way to control separase in cancer as a means to affect cell proliferation."
In her pitch, Coutinho incorporated analogies and clear language to guarantee an understanding from people of different backgrounds. When asked about this process, she shared her thoughts behind it.
I feel that we need to know how to communicate our science. We don't do science for ourselves; we do it for the people," Coutinho said.
"It is important that we talk to our friends and family with no scientific background and tell them what we are doing. This way, we show them that our work is important and that it can save lives."
Jeremy Palacio, a forensic science major at Saint Louis University in Missouri was another standout participant. His project was titled, "Finding a way to separate one form of 3-Phenyllactic Acid from another."
"We are looking at a method to separate the D and L versions of 3-Phenyllactic acid (PLA). Currently, PLA is a promising candidate as a food preservative, but the samples of this compound are usually mixed with both D and L versions, which makes it hard to study individually. We suspect that the D and L versions may work differently as food preservatives," said Palacio. "We need to create the tools to study each version of PLA individually, and that is exactly what our lab is trying to do!"
As part of his SMART program experience, Palacio works in the lab with Dr. Anthony Haag and Dr. Thomas Hovarth. "I come into the lab early in the morning and review the results of samples we run through our mass spectrometer," said Palacio. "Depending on how we were able to separate D and L, we adjust the recipes of our samples and solvents and see if we can run different samples to achieve better results.
It is exciting to apply what I learned from my organic chemistry classes in a real lab setting!" Palacio said.
Houston native Bryanna Godfrey was up next. She is a first generation Nigeran-American and a human biology major at Stanford University. She presented, "The not so small impact of the microRNA miR-302 on Neural Tube Closure."
"My project relates to the role of microRNA mir-302 in neural tube closure, an important process that occurs in early neurodevelopment in order to generate our nervous system," said Godfrey. "Eliminating miR-302 in certain cell populations of the neural tube may have different impacts on neural tube closure that better illustrates the effect miR-302 has in regulating this process."
Godfrey aspires to go into primary care one day.  She also hopes to be an educator of medicine after obtaining her undergraduate degree. "I want to incorporate research into my career through the pursuit of a combined M.D./M.P.H degree," she said.
I think the SMART program will prepare me to think like a scientist and teach me valuable research skills that will help me incorporate research into my career," Godfrey said.
Peijun Zhao, Houston native, and biology major at the University of Houston Honors College, was the last finalist. She closed out the event with her project, "Effects of Atoh1 gene expression on mucinous colorectal cancer."
"There is a subset of colorectal cancers that can be classified as of the mucinous type. These tumors are composed of at least 50 percent mucus," said Zhao. "My project works in identifying the signaling pathways and proteins involved in this type of cancer in mice, which may reveal potential ways to control this disease."
Aside from explaining research to various audiences, the elevator pitch challenges students to put their public speaking skills to the test. This was a standout feat for Zhao.
I highly recommend students to participate in presentation or speaking competitions because, although it can be incredibly stressful, one can learn so much about how to thoroughly present their project in a short time span," Zhao said.
This diverse group of well-versed students each contributed a robust elevator speech. The judges had a tough choice in picking three finalists, an honorable mention, and a people's choice award, voted by the audience.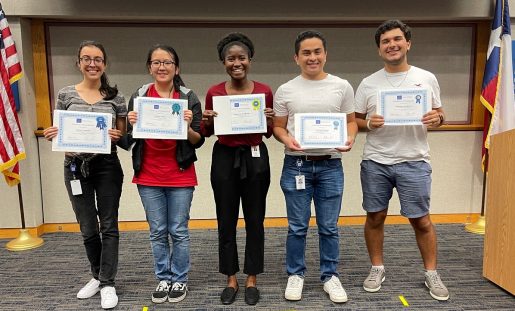 The final four and People's Choice are as follows:
People's Choice: Rodrigo Barquero, "Mapping hunger in the mouse brain," Mentor: Benjamin Arenkiel, Ph.D.
Honorable Mention: Jeremy Palacio, "Finding a way to separate one form of 3-Phenyllactic Acid from another," Mentor: Anthony Haag, Ph.D.
Third Place: Bryanna Godfrey, "The not so small impact of the microRNA miR – 302 on neutral tube closure," Mentor: Ronald Parchem, Ph.D.
Second Place: Peijun Zhao, "Effect of Atoh1 gene expression on mucinous colorectal cancer," Mentor: Noah Shroyer, Ph.D.
First Place: Luiza Coutinho, "Controlling cell division in cancer," Mentor: Debananda Pati, Ph.D.
Congratulations to all!
Receive From the Labs via email