Hispanic Heritage Spotlight: Interview with Dr. Pedro A. Piedra
From the Labs sat down with Dr. Pedro A. Piedra, professor of molecular virology and microbiology, pediatrics, and pharmacology and chemical biology at Baylor College of Medicine. He also is the director of Baylor's Clinical Laboratory Improvement Amendments (CLIA), FDA-Certified Respiratory Virus Diagnostic Laboratory. Piedra shared what drove his passion for medicine and research, his leading role fighting back the COVID-19 pandemic and what he has learned from it.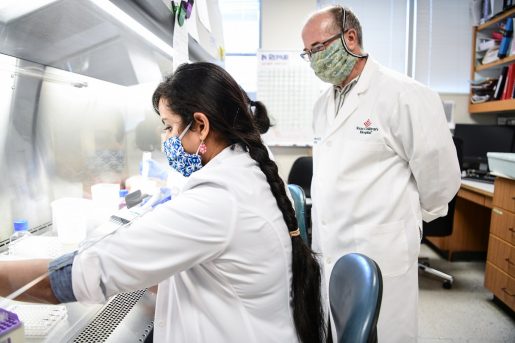 How did the journey that brought you here today start?
I was born in Cuba and lived much of my youth in the Bahamas and Panama. There were very few families near my home. I learned then to be independent and adventurous.
My journey into medicine began when I moved to the U.S. I am a clinical doctor specialized in pediatric infectious diseases. I received my medical doctor's degree from the University of South Florida, completed my internship and my residency in pediatrics at the Medical University of South Carolina, Charleston, and a fellowship in pediatric infectious diseases from Children's Hospital of Buffalo.
I went to Buffalo to learn more about respiratory viruses and their infections because I had seen in the clinic that these diseases caused more than half of children's medical problems. My plan was to be a practicing physician, but my fellowship changed my mind.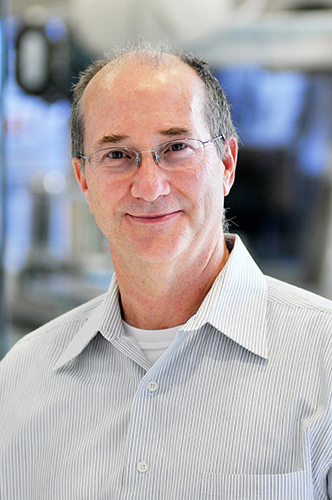 I found research in respiratory viruses appealing. At the time, we could only say, "it's not a bacterial infection, then it has to be a virus," but we could not identify the virus. One thing led to another and I ended up in Baylor in 1987. They were looking for a physician like me to be part of a family study looking at influenza and other respiratory viruses.
I wanted to develop my own research program. I was lucky to have the support of mentors such as Dr. Paul Glezen, Dr. Julius Kasel and Dr. Robert Couch, who were crucial on my professional development providing advice and direction to my career.
What are your main goals at Baylor?
My career evolved from practicing physician to physician-scientist with an independent research program in respiratory viruses.
Respiratory syncytial virus (RSV) is the most important respiratory virus in children. It causes more hospitalizations and global mortality than other viruses, and, although we can prevent severe illness in a highly select group of high-risk infants with monoclonal antibody prophylaxis, there is no vaccine. There are no antivirals to treat it either.
I have devoted a great deal of my career to better understand RSV, develop vaccines and identify the immunological responses of children and adults against that virus to help prevent complications associated with the infections. I have extended my research to include other respiratory viruses, such as influenza, human metapneumovirus, adenovirus and others.
Now, it is about SARS-CoV-2, the virus causing the COVID-19 pandemic.
We have the diagnostic test that detects the presence of the virus in people. We also have developed a blood test that determines the presence of antibodies against COVID19 virus, which is one measure of the immune response that progresses over time.
Working with the city of Houston, we are studying the prevalence of antibodies against COVID19 in our community. This will allow us to evaluate how much infection has happened and how vulnerable our community is, as antibodies are an indication of a previous infection.
My lab also is collaborating with the labs of Dr. Joseph Petrosino, chairman of molecular virology and microbiology and director of the Center for Metagenomics and Microbiome Research, and Dr. Richard Gibbs, director of the Human Genome Sequencing Center at Baylor.
We are working on a project to conduct whole genome sequencing of the COVID-19 virus. We hope that this work will bring new insights into the dynamics of the infection.
For instance, adults and children tend to respond differently to the infection. How is the virus adapting to these different responses? Answering these type of questions requires the analysis of large amounts of data, which was not possible not too long ago. Now, we have the technology and thousands of samples from Houston and around the world to answer our question.
Part of this project includes growing human airway organoids from samples taken noninvasively from the human nose or lungs. These organoids are human stem cells grown in the lab that differentiate and recapitulate many of the functions of the cells in the airway where they come from.
Our airway organoid system enables us to study the viral infection as close as possible as it happens in people and illuminate some of the intricacies of this new human disease.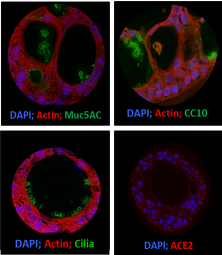 We are also part of the vaccine treatment evaluation unit for the different vaccines for SARS-CoV-2, and I am the head of the laboratory.
What have you learned from the COVID-19 pandemic?
The pandemic is acting like a catalyst, a powerful driver of current research, and when the pandemic is under control, we will be able to apply what we have learned to other diseases. Interestingly, the pandemic also is working in the opposite direction. Techniques we had developed to study other respiratory viruses, we are now applying them to COVID-19.
We are taking advantage of technologies such as whole genome sequencing, which we already had, to learn quickly about SARS-CoV-2. Regarding vaccines, we already had the technology to make RNA- and DNA-based vaccines, but the pandemic has accelerated their development into vaccines for human use. The new virus also triggered changes in regulatory measures to use new vaccines safely, but much quicker.
The pandemic also changed the way people communicate personally and at work. Online communication technologies like Zoom already existed but the pandemic has multiplied its use to allow for continued communication at work and between family members, now limited by COVID-19.
We also have learned things that are not about advanced technologies, but are practical and have significantly helped. For example, there was a time when we thought that surgical masks or cloth masks were not going to be efficient enough to prevent transmission, but when everybody uses it and keeps social distance from others, things change.
Masks and physical distance are the best way to reduce transmission.
If before the pandemic you had asked me if we could control SARS-CoV-2 spread in this way, I would have probably laugh. I would have said that we had to use N-95 masks because that was the only way to be protected. Experience has taught us a valuable lesson.
Tell us something few people know about you?
I love a strong cup of coffee, all types of food from different countries and the outdoors. One of my favorite places to visit is Big Bend National Park. I also enjoy swimming and every once in a while venture into the waters of Great Abaco, Bahamas, where I grew up as a child.
Receive From the Labs via email