A perfect match: The health benefits of jigsaw puzzles
Are you looking for a healthy distraction and escape from the world around you? Look no further than your dining room table and a jigsaw puzzle. While we are physically distancing and staying home more due to COVID-19, jigsaw puzzling is a great way to pass time. Putting a jigsaw puzzle together has many health benefits and can help reduce stress and improve memory.
Working as a healthcare practitioner can be stressful during normal times, and even more so during a pandemic. This is where self-care and finding ways to be mindful when away from work can be beneficial to your health. Mindfulness is the act of bringing conscious attention to a task in the present moment, and puzzles are a good way to practice it.
When I sit down to do my puzzle, my dog gets to relax in his "puzzle spot," and I can leave all the stress of the world at the door while I dive into a beautiful mountain scene or a picture of cute puppies or kittens.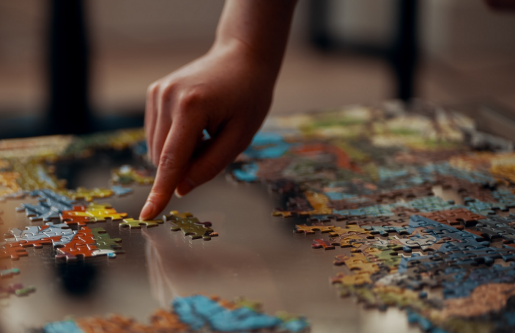 Puzzles are also good for the brain. Studies have shown that doing jigsaw puzzles can improve cognition and visual-spatial reasoning. The act of putting the pieces of a puzzle together requires concentration and improves short-term memory and problem solving. Using the puzzle as an exercise of the mind can spark imagination and increase both your creativity and productivity.
It can be a solitary activity or a collaborative activity with someone else.
Spending time alone with a puzzle is also a great way to unwind and reset from a busy day.  Working on a puzzle with someone can help you get away from screens and create a personal connection. Every time I visit my family in Michigan, my mom and I have a jigsaw puzzle to work on. I look forward to spending this time with her collaborating and catching up.
There is nothing more satisfying for me than putting the last piece of the puzzle in its place. It provides a sense of accomplishment. I encourage you to take this time to find a puzzle of your liking — it will be like a mini-vacation from the outside world.
-By Jill Riley, M.S.N., senior clinical operations associate in the Michael E. DeBakey Department of Surgery at Baylor College of Medicine