Caring for frontline workers: A respite during COVID-19
On a Sunday in early April, Dr. Edward Reece, professor and chief of adult plastic surgery at Baylor College of Medicine, accompanied Father Jojo Cal-Ortiz as he went to the COVID-19 unit at Baylor St. Luke's Medical Center. Father Jojo was there to perform last rites during a patient's last moments. Since he could not enter the patient's room, the rites were read from outside.
There was a heavy sense of the unknown in the air. The coronavirus was still new, and few had much experience with it. Isolation was palpable among the healthcare workers. Although well-equipped with PPE, they were working long hours and faced with a new disease the world still knew little about. Many were not going home for fear of bringing the virus to their families.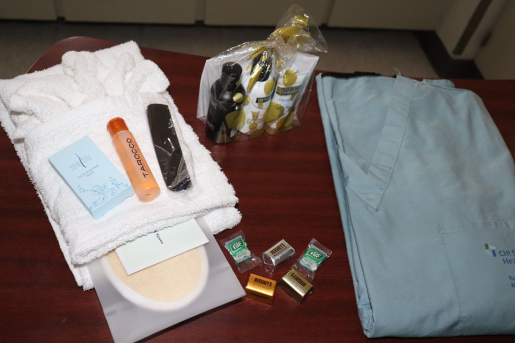 It was clear that something needed to be done to support workers, and hospital administration was approached with ideas on how to help. The response was overwhelmingly supportive.
Within a few days, the 18th floor of Baylor St. Luke's became a dedicated relaxation area where the doctors, nurses, and staff could recharge and sanitize themselves before heading home or returning to work.
Clean scrubs were provided as well as healthy food. A local hotel provided fresh towels, robes, and shower shoes.  A mattress store donated a massage chair and foot massagers. There was soft music playing, dim lights, and aromatherapy – all to help strengthen those who needed to remain strong and well to care for others.
"Everything we did was to make our healthcare workers feel that when they went home, they didn't have to fear about bringing anything with them. We wanted them to feel at ease. We had a lot of donations from the community," said Ken Carlson, director of mission and spiritual care at Baylor St. Luke's Medical Center. Carlson, who served as a chaplain in the army for nearly 20 years, knows the importance of taking care of those who care for others.
Additionally, Baylor's Incident Command Center, the group set up to manage the College's response to the pandemic, organized free rooms for frontline workers at a local hotel and at St. Thomas University, and created an Employee Support Task Force to manage and distribute food donations from area restaurants and organizations.
The topic of physician wellness is not new, though its importance has taken center stage during the COVID-19 pandemic. There has been a strong effort within the medical community to combat physician burnout through awareness and education. Currently, the American Medical Association reports an estimated burnout rate of 42%, down from 46% five years ago.
Reece knows the topic of physician burnout well. In addition to physical and emotional self-care, Reece says awareness of being a part of a team and working towards a larger purpose is also important.
"When you keep in mind that you are always a part of something greater than yourself, and that you are surrounded by team members who are also working to achieve excellent patient care, then it is easier not to burnout. There is balance in teamwork."
For Reece, the relaxation area was a good display of this concept.
"What surprised me the most was how this whole effort benefitted everyone – not just the doctors and nurses, but the patients and the support staff as well. Many physicians and nurses from different specialties synergistically combined efforts for the greater good of all. It was a fantastic display of just what we are capable of when we work together."
 -By Debbie Sugarbaker, editor with the Michael E. DeBakey Department of Surgery at Baylor College of Medicine