Injury treatment and prevention: avoid holiday mishaps!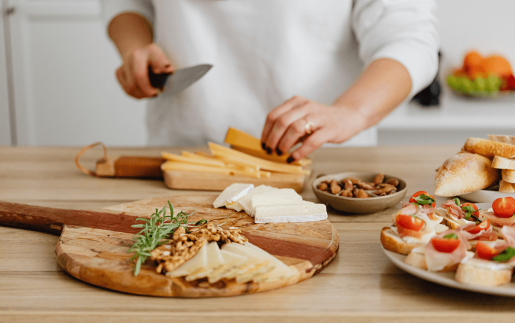 After almost two years of few holiday activities and gatherings due to the COVID-19 pandemic, Americans are eager to begin celebrating and decorating. Even though this is "the most wonderful time of the year," as the old saying goes, many dangers lurk if proper precautions are not taken. In fact, the weeks from November to January are among the busiest for urgent care centers and emergency departments.
In preparation for the holiday season, let's review some of the most common mishaps – how to treat and take action if needed but, most importantly, how to avoid them in the first place.
Kitchen-Related Mishaps
With cooking and eating at the core of many holiday celebrations, it is not surprising to see a surge in cuts and fire- or burn-related injuries. Knives can cause lacerations, hot pans can cause burns and unsafe practices can lead to the spread of bacteria. Lacerations represent about 11% of holiday injuries.
Tips:
Try to plan and not feel rushed. You're at greater risk the more hurried you feel when preparing holiday dishes
Don't leave cooking food unattended
Keep your kitchen decluttered – too many dishes covering your counter space can lead to spillage, burns and fires
Sharpen your knives prior to use
Have extra potholders and oven mitts ready
Limit the occupancy and avoid overcrowding in the kitchen
Always keep a fire extinguisher nearby
First Aid:
Burns
First-degree burns

Classified as superficial burns, are red in appearance and turn white with pressure
Immediately cool the burn with cold water or ice pack
Apply petroleum jelly or antibacterial ointment and cover with a non-stick sterile dry dressing
Change the dressing daily and as needed

Second-degree burns or higher

Classified as deeper burns
May have blistering right away, can be extremely painful unless it is a really deep burn
Immediately cool the burn with cold water or ice back
Apply a non-stick dressing
Seek medical attention immediately

Also seek medical attention immediately if you have:

Any burns to the face, perineum, groin area greater than 3 inches in diameter
Burns on any joint area (most commonly hand/fingers) because as these areas heal, they can cause scarring and permanent contractures
Any chemical burn
Any electrical burn
Some skin is burned away
The burn smells bad
Lacerations
Superficial lacerations:

If your cut looks shallow, small, clean and isn't bleeding, you may not need to seek medical care
For any small amount of bleeding, hold direct pressure on the cut for about 10 minutes; place antibiotic ointment on the cut and cover with a clean, dry bandage. Change daily and as needed.

Seek medical attention if:

You have uncontrolled bleeding and/or take blood thinners that make bleeding difficult to stop
You have exposed muscle, fat, tendon or bone
Bleeding continues after applying direct pressure for 10-15 minutes
The cut has jagged or uneven edges
Depth more than 1/8 to ¼ inches deep
Location in a high movement or stress area (ie joints, hands, feet)
Fireplace Mishaps
Avoid these mistakes so that you can savor your time by the fire all through the winter season!
Tips:
Clean your chimney – this is the No. 1 factor behind home heating fires
Don't leave the damper closed when the fire is lit
Don't place items or décor too close to the fire
Choose the correct type of firewood – do not use it if it is "green" or "unseasoned"
Don't use lighter fluids or other flammable liquids
Don't burn material other than wood
First Aid:
Always keep a fire extinguisher nearby
Follow above tips for burn care
For severe smoke inhalation, call emergency services for medical attention right away
Falls
Be careful when decorating! Decorating both the inside and outside of your house can pose certain dangers unless you take the necessary precautions. Unstable ladders or stepladders cause thousands of people to fall every year while decorating their homes for the holidays. Approximately 34% of decorating injuries are due to falls.
Tips:
Don't be afraid to ask for help – many hands make light work!
Ask for help lifting heavy objects
Always keep one hand on the ladder
Ensure ladders are locked when open and that they are steady
Keep your body within the boundaries of the ladder, don't lean too far one way or another
Never stand above the second-highest rung
First Aid:
Seek medical attention after a fall if you:

Lose consciousness
Have persistent neck or back pain
Have weakness or numbness in the arms or legs
Feel severe pain in the torso or abdomen
Have difficulty breathing
This holiday season keep your family safe, healthy and happy! Unfortunately, even the best safety plans can go awry, so it is always important to know the nearest urgent care or emergency department to your home, just in case.
By Sarah Allen, instructor and physician assistant with the Michael E. DeBakey Department of Surgery at Baylor College of Medicine.