Hungry to help: Food insecurity and COVID-19
In our hiatus from clinics, Baylor College of Medicine students have kept busy. Some have perfected hobbies, including baking, gardening, and golfing. Others have advanced their CVs by working on research projects and writing. Others created baby-sitting services for first responders, launched mask drives, participated in community testing sites, and so much more.
I also wanted to be useful and turned to the food bank. Taping boxes, wiping products, weighing boxes, and sorting produce helped alleviate my angst of not having direction during these times. However, this volunteer work got me thinking: how effective is the food bank in the fight against hunger?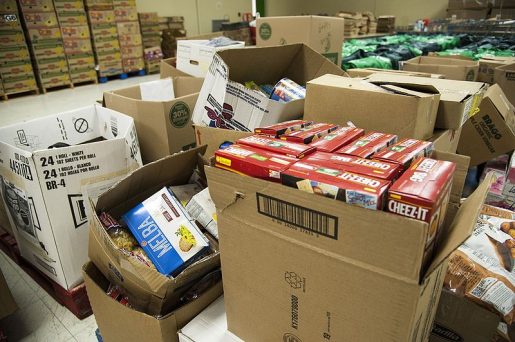 At its core, the food bank fights against food insecurity affecting 1.1 million people in the 18 counties it serves in the Houston area. The Houston Food Bank's goal is to "use the dollars raised to distribute the highest nutritional and dollar value for our clients." This translates to a food bank capable of turning $1 into three meals, with 104,000,000 meals distributed last year.
Despite increasing output by food banks, the Census Bureau reports more hunger now than when the Houston Food Bank started. This predates COVID-19, and recent data shows that 40.1% of mothers with children under 12 years are food insecure and 24% of adults have skipped or cut meals entirely due to lack of money for food.
On a federal level, the Supplemental Nutrition Assistance Program (SNAP) also helps plays a role. SNAP creates $1.5 billion in GDP for every $1 billion invested, and reliably reaches the intended population – 2017 data showed that the average household income for SNAP enrollees was 63% of the poverty line.
Some argue that SNAP fosters dependency on the government, while others contend that it offers essential relief to food insecure families. The future of SNAP is very much in play during the current pandemic.
In response to the Great Recession of 2008, measures to expand SNAP eligibility led to massive increases in the number of recipients. A 2012 study found that SNAP lifted 10 million people out of poverty. Given the unprecedented challenges we face today, common restrictions on SNAP eligibility and renewal have been waived in a majority of states.
Locally, Texas has rolled out a pilot program allowing SNAP recipients to order groceries online. The big change is that SNAP benefits for around 60% of recipients will be raised to the maximum monthly allotment ($509 for a family of three). However, the poorest 40% of the recipients were already receiving this maximum amount. This leaves the lowest income households, already disproportionally affected by food insecurity, with no new relief.
There are plans to introduce an increase in SNAP benefits. In the face of miles-long lines at food bank distribution sites, rising unemployment, and food insecurity numbers not seen in our lifetime, the expansion of SNAP offers the most effective and readily available option going forward.
Brian Greene, CEO of the Houston Food Bank, writes of a story often told about a child tossing beached starfish back into the ocean one at a time:
"A man points out that given how many thousands of starfish there are on the beach, her efforts won't make a difference. The child tosses another one in and says it made a difference to that one. And we all say 'aw, that's sweet. How true.' This story deceives us into thinking that saving one out of a thousand is somehow good enough. What I'd rather hear is how that girl got her hands on a bucket loader and started making a difference at a scale appropriate to how much need there really is."
As I ponder my place as a volunteer, I have had to reconcile the feeling of hope I draw from volunteering with the feeling of emptiness and helplessness in the face of such disparity. I have learned two important lessons that I hope address this duality.
First, it is imperative to be informed on the economic, political, and medical events happening around us. The fallout from COVID-19 is terrifying, not only for the widespread damage it has caused, but also for the major decisions that will follow. These decisions affect the lives of the patient population we will soon call our own.
As future healthcare providers, we need to understand these issues, these decisions, and to advocate for what will help the most vulnerable among us.
Second, I have learned to appreciate small efforts. I believe we must never allow thoughts of futility to discourage us.
There is intrinsic good in the work we do, and we must always guard our sense of altruism from the clutches of cynicism. We are a resourceful group of students in a world with an increasing number of starfish scattered on the beach. We may not have a bucket loader, but we will continue to show up.
-By Esteban Davila, third-year medical student at Baylor College of Medicine