Singing with 'Bravado': BCM Docappella shares healing power of music virtually
"A Whole New World" from the movie Aladdin was the song Anoosha Moturu performed with one of her classmates during karaoke at the Baylor College of Medicine student orientation retreat a few years ago. Shortly after, she decided to audition for "BCM Docappella," an a cappella group made up of medical students and graduate students in the Texas Medical Center.
Today, social distancing due to COVID-19 has created a new world – one in which most in-person musical performances have been temporarily suspended. This reality inspired BCM Docappella to share their love of music with others through a virtual performance of Lorde's "Bravado."
"The project took off as soon as the group agreed to the idea, and every member was willing to help every step of the way," said Moturu, now a BCM Docappella music director and third-year medical student at Baylor. "Everyone stepped up to the plate to coordinate recording, audio editing, video editing, and everything in between."
Members of the group began holding meetings via Zoom to discuss ideas on song selection. They enjoyed the process so much that they decided to hold a weekly virtual rehearsal for the project.
"It was interesting, especially from the perspective of directing logistics. We had to be creative about working together. In the end, we all learned new skills to edit our audio tracks so that they lined up," said Soumya Gogia, a third-year medical student at Baylor and logistics coordinator with the group. "So much of our music making process as a group has relied on being present with each other. The fact that this was all virtual was an exercise not only in creative problem solving, but also in learning to listen more carefully."
The meaning of "Bravado"

Ricardo Najera, a second-year medical student at Baylor, arranged the "Bravado" performance. The song, which was originally released by Lorde in 2013, has a special meaning to the group.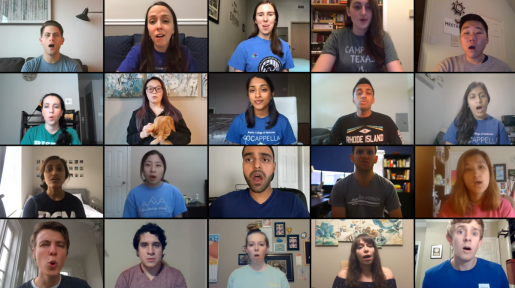 "This song is about finding confidence in oneself through adversity. I think it's appropriate for these difficult times," said Najera. "We often hear how healthcare workers are on the front lines overcoming uncertainty to help others. This was truly a labor of love dedicated to all of our friends, our families, and to all the healthcare workers out there saving lives."
This was Najera's first time arranging music, and he was initially unsure about how the song would be received. He says his worries quickly disappeared after receiving encouragement and positive feedback from his group mates.
"While everyone has their individual interpretation of the song, we all agreed that it conveys a sense of overcoming fear and finding inner strength," said Gogia. "That's something we're all trying to do right now."
Finding normalcy
Everyone has their own way of coping with the COVID-19 pandemic. For members of BCM Docappella, the creative process has been cathartic.
"Being part of Docappella has given us the chance to bring some normalcy to the quarantine by continuing to have our weekly evening practices – just virtually! It's nice to be able to check in with our friends and keep a sense of routine," said Moturu. "A creative outlet is a wonderful way to use some of our energy."
Gogia says Docappella helps her cope with uncertainty. She also encourages others who might be interested in creative or artistic expression to get started.
"Go for it, even if it's something you don't have a lot of experience with or don't consider yourself good at," she said. "Creative outlets can serve as a wonderful source of personal growth and fulfillment, as well as an opportunity to connect with other people in a meaningful way."
Sharing the joy of music
While the group is looking forward to hosting in-person concerts again once it's safe to do so, they hope that viewers find their videos uplifting in the meantime.
"My hope is that people watching will be inspired to share the message behind the song to others in their lives and help spread words of encouragement," Najera said. "Music conveys emotion as much as or better than words can, and with the internet, its effects work across any amount of physical distance."
The group is currently developing more performances for their virtual choir series, including "I Want You Back" by The Jackson 5 and "Lean on Me" by Bill Withers.
"We hope that watching our performances can help others see that even though things are changing day by day, we can all still come up with creative solutions to continue our favorite activities and spread positive energy throughout our community," Moturu said.
"As one of our members put it, our project was "brought to you from 22 different living rooms," said Gogia. "I think it's a way to show that we can listen, create, and love each other – even from far away."
See more from BCM Docappella on YouTube and Facebook.
-By Nicole Blanton