Growing Up Baylor: Dr. Rahel Selassie
Imagine studying, training and eventually working at the same institution during the span of your career. A special group of physicians, faculty members, researchers and staff at Baylor College of Medicine have had this unique experience.
Dr. Rahel Selassie, assistant professor of anesthesiology at Baylor, tells us how training and working at Baylor has impacted her life and career.
Q: Did you always know you wanted to study medicine?
A: When I was young, I always wanted to become a doctor. However, as I grew older, the business world piqued my interest, so I decided to pursue a business degree. I excelled in the business world for many years and founded a corporation. Despite my success, the desire to study medicine and become a doctor never went away.
I realized my true love for science and medicine could not be ignored, so I made the decision to follow my dream and apply to medical school as an older, non-traditional medical school applicant.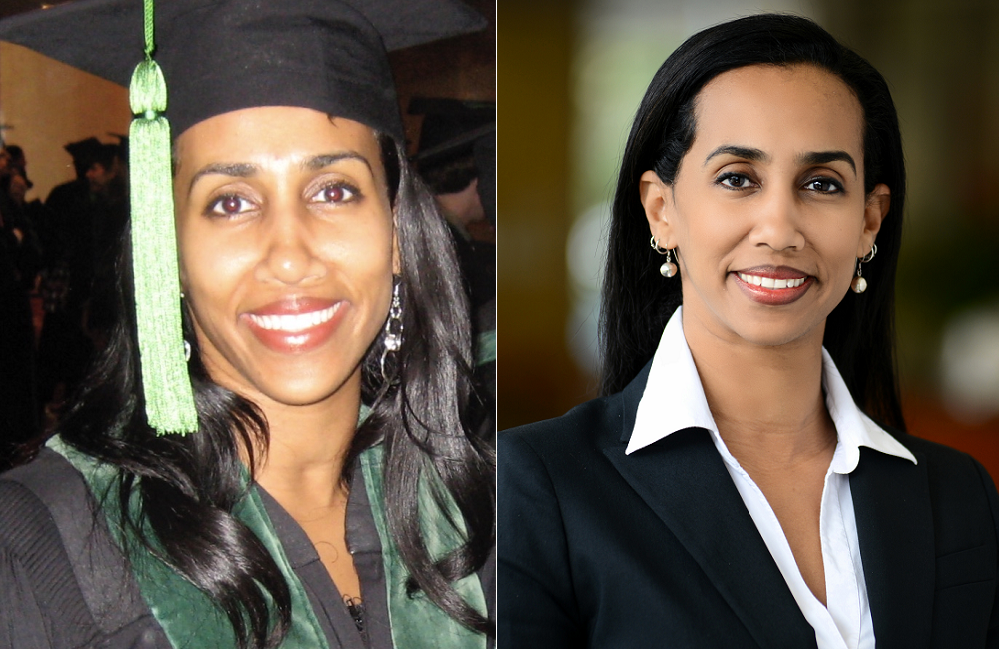 Q: Where and when did your journey with Baylor College of Medicine start?
A: Once I decided to pursue medicine, I began researching medical schools, but I knew I wanted to remain in Houston because it's home for me and my family. Baylor was my first choice because of its outstanding reputation, name, and rank among other national medical schools.
I remember making an appointment with Baylor's admissions office and speaking to the dean about my decision to pursue medicine at a later time in my life. I was met with encouraging words and left with a list of admission requirements. This really started my journey. Years later, I remember receiving a call while I was shopping one day, informing me that I was accepted to Baylor. It was one of the happiest days of my life.
Q: What inspired you to continue studying at Baylor?
A: First, my personal strong desire to go back to school to study medicine is what inspired me to continue studying at Baylor and finish my medical degree. Second, my family, classmates, and friends were also a constant inspiration.
Q: What is the most valuable lesson you've learned?
A: The most valuable lesson I have learned is that if you are really determined to do something, you can do it. Even if things are not easy, with the help and support of family and friends, it can be done.
Q: Knowing what you know now, what would you tell your younger self?
A: I would tell my younger self to pursue your passion, continue to be true to yourself, do good in the world, give your best, and leave a positive impact on the world.
Q: If you could do something differently, what would it be?
A: I honestly don't think I would want to do anything differently. It's easy to look back and want to make your life or experiences easier, but each experience, challenge, and difficulty has helped shape me to be better and wiser in so many ways.
Q: What do you think makes Baylor unique?
A: Baylor is unique because of the people and culture at this institution. When you walk into Baylor, it's almost as if you can feel this scientific energy in the air of learning minds, research, and education. The people who work at Baylor care about their jobs and foster a sense of family and belonging to this educational institution.
Baylor feels uniquely like a second home to me because it's where I "grew up" as a physician, and I'm certain that sentiment is shared by others in many different ways.
Q: How has sticking with Baylor programs and ultimately becoming a faculty member impacted your life and career?
A: Sticking with Baylor for medical school, residency training, and staying on as a faculty anesthesiologist has been one of the most rewarding career choices. Baylor has given me the ability to make a difference in patients' lives, improve quality and safety, create programs, teach residents, and collaborate with other dynamic physicians and colleagues. I am always proud to tell others where I work and where I trained because of Baylor's excellent medical reputation.
Q: Do you have a mantra? If so, what is it?
A: It's simple: "There is always something to be thankful for."
Additional Resources
Read more from the Growing Up Baylor series.