The McNair Scholar Spotlight: Dr. Xaq Pitkow
From the Labs sat down with McNair Scholar Dr. Xaq Pitkow to learn more not only about his research but also about him, what motivated his pursuit of a career in science and how he manages his laboratory.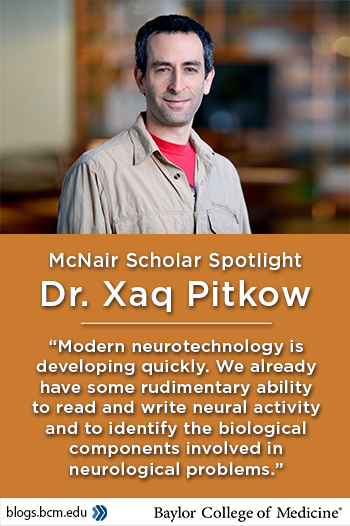 FTL: What events that happened early in your life inspired you to pursue a career in research?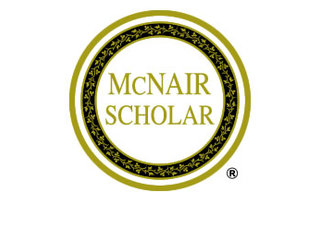 XP: I once saw Bill Bialek give a talk when I was an undergraduate student in which he showed a few examples of how we could use theoretical physics to understand the brain. I found it astonishing that thiscould be done, and I was immediately enchanted.
FTL: What were your favorite subjects in graduate school?
XP: I found statistical physics especially interesting because it allows us to connect the collective behavior of many small things to a qualitatively different large-scale behavior.
FTL: What did your family say when you expressed your interest in pursuing a career in science?
XP: They were not surprised. My mom thought I would be a scientist or an architect.
FTL: Briefly describe the most recent, top three major contributions of your lab to your field.
XP: 1) Our lab has identified a practical test for determining whether the brain uses its information optimally. We found that the vestibular system appears to be optimal at decoding its linear acceleration.
2) We have defined a new theoretical model and analysis technique that allow us to think about brain computations, not at the level of individual neurons, but at the level of populations.
3) We have created a new method to infer what you believe from what you do, at least regarding certain experimental foraging tasks.
FTL: How will your research findings help move the field forward and/or improve patients' quality of life in the future?
XP: If your brain is malfunctioning, we as a society would like to help fix it. Modern neurotechnology is developing quickly. We already have some rudimentary ability to read and write neural activity and to identify the biological parts of the brain that cause the problems. As this technology improves, it becomes more and more pressing to understand the structure of the neural code, so we can direct the reading and writing and select targets for therapeutic interventions.
FTL: Do you follow a certain lab routine with your students, postdocs and staff that you think helps your lab be productive?
XP: Many of us eat lunch together and have free-flowing discussions at the whiteboard. I try to adapt my interaction style to the needs of the student and the current state of the project. This can mean five-minute meetings 10 times a day, or two-hour meetings once a month.
FTL: Do you follow a certain routine when you are designing experiments, writing grants or papers?
XP: I do like to pace, I find that it allows me to avoid distractions. To relax, I like to spend time with my family, playing board games or jumping on the trampoline. Sometimes I play piano or Indian drums.
FTL: Why did you decide to come to Baylor College of Medicine?
XP: BCM had great experimental collaborators for me who were pioneering a strong connection to the quantitative people at Rice University. These two factors were crucial for me finding a home here. It also helped a lot that we were able to solve the infamous two-body problem by coming here, with my wife working in a wonderful job at the Shepherd School of Music at Rice teaching aural skills and music theory.
FTL: How is being a McNair Scholar going to help you achieve your research goals?
XP: Being a McNair Scholar relieved me of a lot of pressure to propose incremental projects that would be more likely to pass a risk-averse panel of grant proposal judges. Instead, I was able to propose bold ideas and pursue them long enough to gather support that I can use to continue these projects.
FTL: What traits or habits of yours do you think have helped you be where you are today professionally?
XP: Working hard, playing hard. Staying open minded. Talking freely to people and not being afraid to trying out new ideas.
FTL: What would be your advice to students considering a career in basic biomedical research?
XP: Find happiness in your daily life. Science is slow, and most of what we try doesn't work. So you have to enjoy the scientific process.
Dr. Xaq Pitkow is an assistant professor in the Department of Neuroscience and also holds a joint appointment at Rice University as an assistant professor in the electrical and computer engineering department.
McNair Scholars Program
The McNair Medical Institute at Baylor College of Medicine was established in 2007 to recruit talented scientists and physician-scientists from around the world to the Texas Medical Center. These McNair Scholars pursue collaborative and transformational research in the areas of breast and pancreatic cancer, juvenile diabetes and the neurosciences.
Receive From the Labs via email