Growing Up Baylor: Dr. Lindy McGee
Imagine studying, training and eventually working at the same institution during the span of your career. A special group of physicians, faculty members, researchers and staff at Baylor College of Medicine have had this unique experience.
Dr. Lindy McGee, assistant professor of academic general pediatrics at Baylor, tells us how training and working at Baylor has impacted her life and career.
Q: Did you always know you wanted to study medicine?
A: When I was in third grade, a friend was diagnosed with liver cancer. Seeing his struggle and ultimate passing due to cancer convinced me that I wanted a career in science or medicine so I could do my part to make sure that fewer children suffer.
Although my career did not end up leading me to the practice of oncology or cancer research, I am very excited that as a primary care pediatrician and vaccine advocate, I have the opportunity to help increase HPV vaccination rates and prevent HPV-related cancers.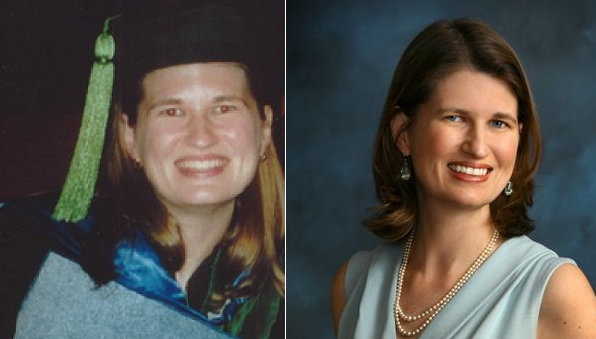 Q: Where and when did your journey with Baylor College of Medicine start?
A: I worked in the lab of Richard and Joanna Hurwitz at Texas Children's Hospital during summers in college. The summer after my sophomore year, I was able to participate in the SMART program at Baylor and work in the lab of Hugo Bellen. Although I ultimately decided to pursue patient care and clinical research rather than bench research, these summer experiences opened my eyes to all of the exciting research coming out of Baylor.
Q: What inspired you to continue studying at Baylor?
A: I went on to medical school at Baylor and completed my residency in pediatrics at Baylor in 2004. I was inspired by the commitment to excellence in science and patient care that I saw at Baylor. I also really appreciated the variety of patient care experiences that Baylor had to offer at Ben Taub Hospital, the VA Medical Center, St. Luke's Hospital, and Texas Children's. These hospitals offer a glimpse of the best patient care in public and private settings.
After residency, I joined a private practice as a general pediatrician and was there for 10 years. During the time I was practicing there, we saw a rise of anti-vaccine sentiment around the world, but especially in our state.
I was drawn back to Baylor as a place where I could have support in my vaccine education efforts, as well as help train the next generation of physicians.
Q: What is the most valuable lesson you've learned?
A: Honestly, I think the most valuable lesson that I have learned is to say "yes" to opportunities that come my way, even if (especially if) they are a little bit out of my comfort zone. Five years ago, when I was a community pediatrician, I never would have guessed that I would be an academic pediatrician, back at Baylor seeing patients, teaching, and working with a fantastic team on a grant, but here I am – and I'm loving it!
Q: Knowing what you know now, what would you tell your younger self?
A: I would tell my younger self that all of the hard work was worth it.
Q: If you could do something differently, what would it be?
A: Become fluent in Spanish!
Q: What do you think makes Baylor unique?
A: The access Baylor has to the minds of the Texas Medical Center and the diversity of the population in Houston definitely make it unique.
Q: How has sticking with Baylor programs and ultimately becoming a faculty member impacted your life and career?
A: I am excited to work with Baylor medical students and pediatric residents at the Pediatric and Adolescent Health Center – Pasadena, a Harris Health System clinic. I am also working on a Cancer Prevention and Research Institute of Texas grant in collaboration with colleagues at the Office of Outreach and Health Disparities at the Dan L Duncan Comprehensive Cancer Center to increase HPV vaccination rates in the Harris Health System.
Q: Do you have a mantra? If so, what is it?
A: I don't have a mantra, but I do have a quote that I clipped out of a newspaper in college and has been hanging on my bulletin board ever since:
 "The purpose of life is not to be happy – but to matter, to be productive, to be useful, and to have it make some difference that you lived at all." – Leo Rosten
This is not to say that I'm not happy, but I do think that I find happiness by concentrating on the rest!
Additional Resources
Read more from the Growing Up Baylor series.