Image of the Month: Measuring the effects of microgravity on vision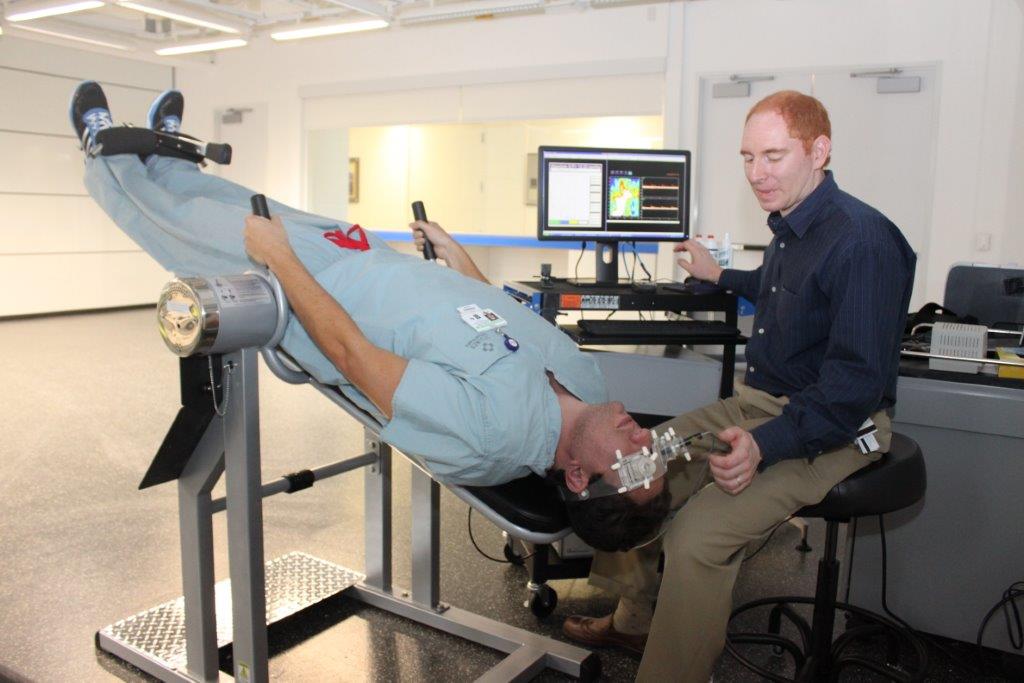 Astronauts have developed ocular changes affecting vision in microgravity, associated with findings suggestive of elevated intracranial pressure (ICP). Currently, the ICP can only be measured by placing an invasive catheter through the skull, or a spinal needle in the lower back. The methods carry small but potentially serious adverse effects; therefore it is desirable to develop a non-invasive technology for measuring the ICP.
At the Center for Space Medicine in Baylor College of Medicine,  Dr. Eric M. Bershad, assistant professor of neurology-vascular critical care, and his colleagues are evaluating a novel transcranial Doppler-based non-invasive device that compares the blood flow in two different segments of the ophthalmic (eye) artery.
The Center for Space Medicine (CSM), established at Baylor College of Medicine in 2008, is the first department/academic center in space medicine ever established in a university or medical school.
CMS focuses on research, medicine and education to support human space exploration and enhance health and medical care on Earth. It is a one-of-a-kind center of excellence where students, residents, fellows, faculty and visiting scholars can exchange ideas, host interactive scientific meetings and technology demonstrations and participate in cutting-edge interdisciplinary projects at the interface of space and medicine.
Between 2009 and 2012, CMS developed the first-ever, four-year elective program in space medicine for undergraduate medical students.
Learn more about the Center for Space Medicine and its research projects, the Translational Research Institute for Space Health and the space medicine track at Baylor College of Medicine.
Receive From the Labs via email