'Standing down' to help homeless veterans
Whenever there is a call for help in the community, students and faculty at Baylor College of Medicine are often ready to answer, and that's just what they did at this year's Houston Homeless Stand Down.
The Houston Homeless Stand Down is an annual event hosted in conjunction with the City of Houston, the Michael E. DeBakey VA Medical Center, and community agencies such as the Salvation Army, Goodwill Services, and U.S. Vets, to provide aid to Houston area homeless veterans.
"Stand down" is a military term meaning 'relaxation from an alert state.' Our stand down means that homeless veterans can come to one location and receive homeless services and information all in one day," said Dr. Claudine Johnson, assistant professor of medicine and leader of the Homeless Patient Aligned Care Team (H-PACT) at the VA. "Since all of the agencies are there, veterans are able to get information about housing, jobs, eligibility for benefits, the VA and learn more about other resources. Clothing is also distributed and the veterans are served breakfast and lunch."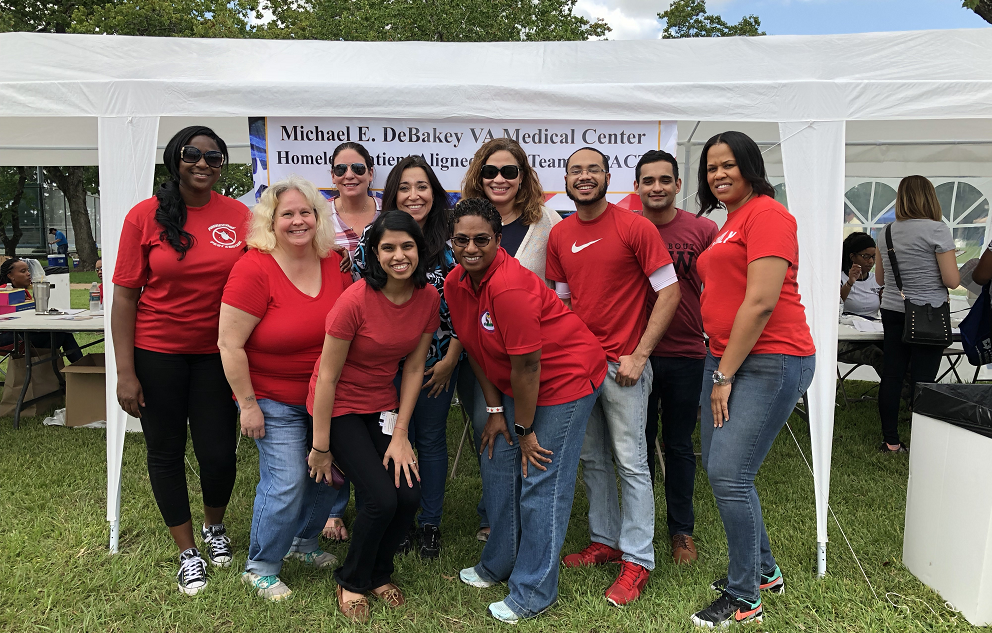 Due to the impact of Hurricane Harvey, Johnson said that an added focus of this year's event was on recovery efforts. The event was dubbed "Houston Homeless Stand Down: Operation Rebound." Because of this, more clothing, military surplus and food items were distributed.
Stand Down is also a chance for Baylor residents and other health practitioners from the Texas Medical Center to provide medical and mental health services to veterans. These trainees are from the VA Center of Excellence in Primary Care Education and they help cover emergencies, administer flu vaccines, and conduct blood pressure screenings. Joining the trainees from the Center of Excellence was a team of healthcare practitioners from H-PACT who regularly provide care to homeless veterans at the VA.
"The Center of Excellence in Primary Care Education is an interprofessional training program with trainees from a variety of disciplines, including internal medicine residents, mental health fellows, pharmacy residents, undergraduate nursing students, nurse practitioner residents, and a social work intern, who work together to provide primary care to veterans," said Dr. Lechauncy Woodard, associate professor of medicine at Baylor and director of the Center of Excellence in Primary Care Education.
Trainees who participated in the event were Dr. Nupur Kikani, Dr. Faiz Jiwani, LaZena Barrett and Dr. Chandler Schexnayder.
Johnson and Woodard agree that feedback they've received from veterans and trainees who participate in the Stand Down has been overwhelmingly positive. Veterans that attend say they are grateful for the services and resources the event provides, especially if they are new to the city or weren't aware of the event in past years.
Johnson says the Stand Down also serves as a recruitment and educational event to make sure that homeless veterans know that H-PACT exists as a resource for them. Since H-PACT has only been in existence for five years, many homeless veterans around the city are just learning about it.
"It is not only important that veterans know about Stand Down, it also is important for the community to recognize that these events happen and that we have dedicated services for our homeless veterans available at the VA. This way, if they encounter a veteran that may be struggling with homelessness or insecurity with regard to housing, they can help by referring them to us so that they can take advantage of these services," Woodard added.
See photos from the event below.
This slideshow requires JavaScript.
-By Julia Bernstein