Growing Up Baylor: Dr. Fabrizia Faustinella
Imagine studying, training and eventually teaching at the same institution during the span of your career. A special group of physicians, faculty members and researchers at Baylor College of Medicine have had this unique experience.
Dr. Fabrizia Faustinella, associate professor of family and community medicine at Baylor, tells us how training and working at Baylor has impacted her life and career.
Q: Did you always know you wanted to study medicine?
A: I knew from a very young age that I wanted to study medicine and become a physician. There is nothing more fulfilling to me than having the opportunity to help others when they need it the most. When the time came to apply to medical school there were no doubts in my mind. I received my medical degree from the University of Perugia, Italy, and my Ph.D. from the University of Florence, Italy.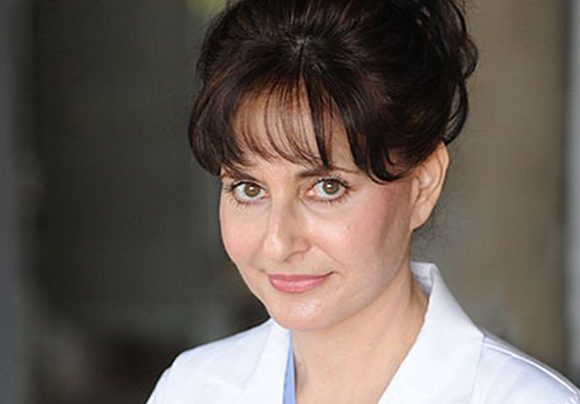 Q: Where and when did your journey with Baylor College of Medicine start?
A: After obtaining my M.D. and Ph.D., I went to the University of Milan where I did research in human genetics. That's when I made the decision to come to the United States to extend my research on a molecular level.
I wrote to several U.S. research institutions and I was particularly impressed by Baylor. So when a position opened in Dr. Lawrence Chan's laboratory, I immediately applied and was accepted. I'll always be grateful to Dr. Chan for his trust in me. My work in his lab has contributed to the elucidation of the structural and functional role of the catalytic triad of the Human Lipoprotein Lipase (LPL), a key enzyme in lipoprotein metabolism, and patients affected by LPL deficiency.
My interest in the molecular basis of genetic diseases brought me to Dr. Tom Caskey's lab, where I contributed to the isolation of a lissencephaly gene and developed retroviral vectors for gene transfer. Despite my love for research, I missed the personal fulfillment from direct patient care. That's when I decided to become a licensed physician in the United States.
As a foreign graduate, I had to go through residency again and complete three years of training. I applied to numerous residency programs and, despite receiving offers from other schools, I made the decision to continue my training at Baylor. I'm now a faculty member in the Department of Family and Community Medicine at Baylor.
Q: What inspired you to continue training at Baylor?
A: My decision was based on several factors. Baylor had given me the resources to explore my research interests. Support, collaboration, trust, openness and professionalism were critical to my accomplishments.
I felt honored when a position in the Internal Medicine Residency Program at Baylor was offered to me. I didn't have to think twice before accepting it. Going through residency at Baylor is still one of the most memorable experiences of my life.
Q: What is the most valuable lesson you've learned?
A: The most valuable lesson I learned is to always follow my passion and that hard work pays off. When we are given opportunities, it's our duty to make the best out of them and to repay the trust and support with hard work and contribution to the system.
Q: If you could do something differently, what would it be?
A: At some point in time, I think we all wonder what we should have done differently in our lives. Professionally, I can say the path I took has been fulfilling to me. It wasn't easy, but every step I took prepared me for the step that followed. If I didn't have the experience from previous positions, I would've had fewer chances of succeeding in new ones. I started looking at the bigger picture and came to appreciate the fact that, for me, things couldn't have happened any other way.
Q: What do you think makes Baylor unique?
A: Baylor embodies the spirit of the Texas Medical Center. As a foreign medical graduate, I've been welcomed with an open heart by this institution. Over the years, Baylor values have grown stronger, guided by an unwavering vision for the advancement of humanity.
Q: How has sticking with Baylor programs and ultimately becoming a faculty member impacted your life and career?
A: Sticking with Baylor and returning to Baylor has offered me the opportunity to explore and develop the many different aspects of my career. Many of my colleagues and previous mentors became close friends of mine and are part of my extended family.
I have so many people to thank for their help and support throughout the years. Drs. Lawrence Chan, Tom Caskey, David Graham, Edward lynch, Steven Greenberg, Daniel Musher, Lawrence Rice, Venkata Bandi, Martin Lidsky and Garabed Eknoyan are among so many who have greatly contributed to my education and made my Baylor experience unique.
Additional Resources
Read more from the Growing Up Baylor series.