Medical students provide compassionate service to homeless community
For 17 years, students from Baylor College of Medicine, The University of Texas Health Science Center – Houston and the University of Houston College of Pharmacy have been serving Houston's homeless community through the Houston Outreach Medicine, Education and Social Services (HOMES) clinic.
Dr. David Buck, associate professor of family and community medicine at Baylor and the president and founder of Healthcare for Homeless-Houston (HHH), says the idea for the clinic was sparked by students.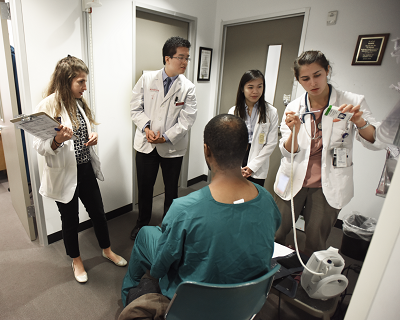 "In 1999, a social work student from the University of Texas – Houston, and a medical student from Baylor came to me independently and said they wanted to do something around homelessness," said Buck, who oversees the clinic.
A collaborative effort was launched after assessing the needs of the homeless population. The clinic was established not only to provide healthcare for the homeless, but also to give students an educational opportunity by allowing them to manage the clinic.
Although the clinic does not provide long-term care, patients receive acute care and are then referred to HHH's primary care.
"We want students to be able to work together and benefit from the diverse resources and size of our community," Buck said.
Before each appointment, patients are provided breakfast or a cup of a coffee. During this time, patients and students are able to interact with one another as equals in a get-to-know you session. The breakfast and clinic visits take place on Sundays at the Healthcare for the Homeless Houston clinic.
Students will often go out into the streets on Thursday afternoons spreading the message of free health care available that Sunday.
Additional Resources
Read more about the HOMES clinic.
Visit the HOMES clinic website.
Baylor College of Medicine has joined the Houston Chronicle in celebrating Houston's history in a six-month retrospective project. This story is part of an ongoing feature that can be found on our website. Throughout the next several weeks, we'll be highlighting our shared history with the community.