Summer Science Institute provides learning opportunity for Houston school teachers
Making science a hands-on learning experience for young students doesn't have to be a worrisome activity.
The Baylor College of Medicine Summer Science Institute provides an opportunity for Houston Independent School District teachers to enhance their science knowledge and teaching methods for elementary schoolchildren. This summer, nearly 200 elementary school teachers from 63 HISD campuses participated in the week-long program.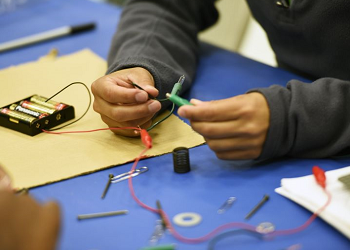 "The overall goal of the Baylor Summer Science Institute is to work with the teachers during the summer to increase their content knowledge and also to give them actual physical science lessons that are grade-level appropriate that they can implement in their classrooms," said Barbara Tharp, director of the Baylor Summer Science Institute, assistant professor in the School of Allied Health Sciences at Baylor and associate director of the Center for Educational Outreach, the organizer of the program.
Scientists, doctors and authors are all involved in giving teachers in-depth science lessons and resources. Steven Eaton, a third-grade teacher at Isaacs Elementary School who participated in the program, is excited to see how his students react to the new material.
"The hands-on experiments are phenomenal. The best part about the experiments is that they are very easy to assemble so there's not a lot of preparation time involved," Eaton said. "This makes them very applicable to the students, and with us being excited about it, the kids will be too."
Additional Resources
Learn more about the Summer Science Institute.
Summer program helps teachers engage in science in the classroom
Baylor College of Medicine has joined the Houston Chronicle in celebrating Houston's history in a six-month retrospective project. This story is part of an ongoing feature that can be found on our website. Now through October, we'll be highlighting our initiatives, events and history with the community.