Men opting for plastic surgery to boost self esteem, career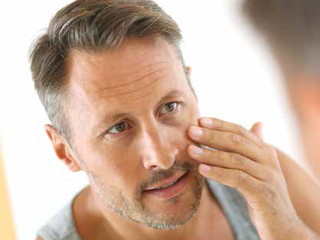 Women aren't the only ones who want to look their best. More men are looking to retain a youthful appearance and are turning to facial plastic surgery.
Dr. Krista Olson, physician in the Facial Plastic Surgery Center at Baylor College of Medicine, said there has been a steady increase of male patients over the past two to three years in her practice.
Olson said while patients have different motivations, it's not uncommon for men to opt for a procedure after their significant other had plastic surgery and sometimes even for their careers.
"Plastic surgery can really boost a person's self-esteem," she said. "It's no surprise that those are motivating factors when it comes to reconstructive and aesthetic facial surgeries for men."
According to the most recent study conducted by the American Society for Aesthetic Plastic Surgery, the number of cosmetic surgeries for men increased by more than 106 percent.
Olson said the more popular services men tend to opt for include:
Botox™ to minimize facial wrinkles like frown lines and crow's feet
Microdermabrasion to improve skin appearance
Rhinoplasty to reshape the appearance and proportion of the nose
Facelifts and necklifts to offers a youthful and more sculpted facial appearance
Blepharoplasty, also known as eyelid surgery, to refresh and rejuvenate the eyes
Olson said there are a significant number of male patients who are interested in hair restoration. She encourages patients to really think about and weigh all options before deciding which route is best for them to take.
"My main concern is helping my patients feel comfortable in their own skin and finding the best aesthetic option to meet their wants and needs," said Olson, also an assistant professor of otolaryngology-head and neck surgery.
Interested in plastic surgery? Call 713-798-3223 to schedule an appointment to meet with our doctors.
Read more about trends in Baylor's Facial Plastic Surgery Center newsletter.