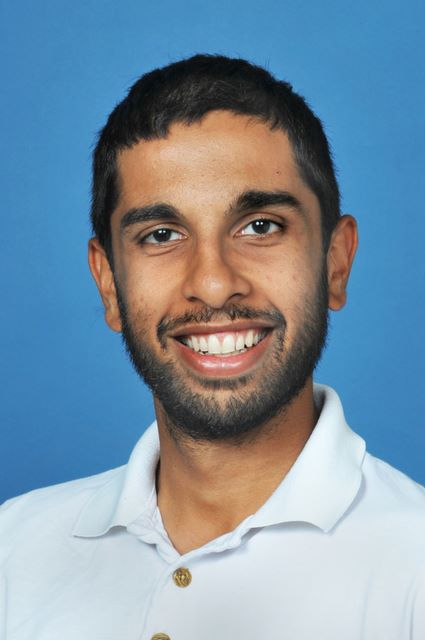 By Anup Shah, MS3
It can be the most mundane of tasks to some residents, but before discharging any patient admitted to the hospital with heart failure or COPD, they all have to go through a six minute walk test.
It's a simple task really. Connect a portable pulse oximeter to the patient. Get them out of bed. Walk around the nursing station for 6 minutes and wait to see if they desaturate below 90 percent (oxygen saturation is a measure of how much oxygen the blood is carrying as a percent of the maximum amount of oxygen the blood can carry). If they don't desaturate, they can go home.
Since residents on the internal medicine service can sometimes carry up to 10 patients at a time, this can become just another item on what is often an endless to-do list. That's where the medical students come in
Students only follow 3-4 patients at a time, and this is certainly a simple enough task that we can help out with. How you perceive it, though, is totally up to you.
I loved my six minute walk tests, because I felt like it was one of the few times while the patient was in the hospital I could talk to them "person-to-person" instead of "doctor-to-patient."
For one thing, you're both standing up and walking together instead of the usually disparate setting of the caregiver standing and the patient lying in bed completely exposed. By walking together, a personal conversation sprouts organically and you learn things about these people that you could have never learned even if you stood at the bedside for 30 minutes.
My most recent walk test was with a 49-year-old woman who had a chronic cocaine induced cardiomyopathy and was admitted for a heart failure exacerbation. She had been in the hospital for a week, but wasn't particularly interested in having a conversation every time I went in to see her in the mornings (I'd probably feel the same way if I was being woken from my sleep at 6:30 a.m.).
But even throughout the day, she would perseverate on the pain in her back and her shortness of breath. I couldn't for the life of me get her to talk about anything else.
But on the day we expected her to go home, I went in there to do her six minute walk test. I brought her a walker in case she needed and she looked at me and said "Boy you better not be bringing that for ME to use." We both got a good laugh out of it.
The walk test showed me a completely different person. She told me about her 30-year-old son who is back in jail for what she says is him just being "hard headed and stupid." About her daughter in her early 20s who can't stop partying and is making the same mistakes as she did 25 years ago.
She tells me how she wants to go home and cook herself a nice meal and clean the house because her daughter can't do any of those things (of course I tell her it's not a problem with her daughter, but it's a problem with my generation and that she's invited over to my house to cook and clean whenever she wants). In six minutes, I learned more about this person than I did by coming to her bedside three times a day for a whole week.
The six minute walk test is a hidden gem that although created for more practical purposes, can serve as psychosocial therapy for so many of our patients. This therapy doesn't feel artificially constructed. The medical student is not there to do a psychosocial assessment; they're there to simply listen.
I honestly think medical students should be required to perform every six minute walk test not just to provide that conversational outlet for our patients, but to teach us how to connect with them on a deeper level.