Baylor College of Medicine investigates bird flu vaccine
This time of year, there's always a lot of discussion about the flu – vaccines, outbreaks, comparisons to previous years, and more.
It wasn't too long ago that there was a  pandemic caused by an H1N1 influenza virus sometimes called "swine flu" (2009), and even more recently, a new avian influenza strain popped up in China, otherwise known as the bird flu (H7N9 virus).
See below for some quick facts about the bird flu, and learn about the research that Baylor College of Medicine is doing to test vaccines which could protect against bird flu infection if a pandemic develops.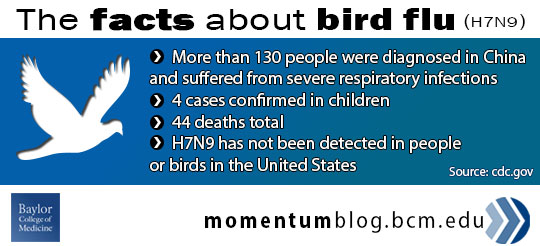 Human infections with bird flu viruses are still infrequent. People get infected after close contact with infected birds or contaminated environments. Person to person transmission of the virus is very rare.
Symptoms are similar to regular flu, including high fever and cough, but some cases are severe, complicated by pneumonia, acute respiratory distress syndrome, septic shock and multi-organ failure.
Baylor expert Dr. Wendy Keitel, the principal investigator of the BCM VTEU and a member of the BCM Vaccine Research Center, said: "It is difficult to predict whether the H7N9 virus will cause a pandemic, but there is great concern that the H7N9 virus may gain the ability to transmit easily from person-to-person. If that happens, then rapid spread around the world could occur, as almost all people are susceptible to the virus. If a pandemic develops, then we need to be prepared to deliver effective vaccines rapidly to the entire population."
Read more about the study and if you'd like more information about participating in the study, please contact the BCM Vaccine Research Center at 713-798-4912.
-By Jordan Magaziner