Baylor surgeons perform first multi-organ transplant involving heart at Houston VA
Dr. Alexander Schutz, assistant professor of surgery in the Division of Cardiothoracic Surgery, Dr. Alexis Shafii, associate professor of surgery in the Division of Cardiothoracic Transplant and Circulatory Support, and Dr. Ronald Cotton, associate professor of surgery in the Division of Abdominal Transplantation, performed the first multi-organ transplant involving the heart at the Michael E. DeBakey VA Medical Center in Houston in July. Simultaneous liver and kidney transplants have happened since 2014, but this was the first time adding the heart in a multi-organ transplant at the MEDVAMC.
"We are only one of two VAs performing heart transplant start to finish in the VA hospital and system," says Schutz. "A multi-organ transplant is a less commonly performed procedure but allows veterans who may have previously been turned down for heart transplant because of their kidney function an opportunity to add years to their life. I am glad to have been a part of another great collaborative effort to bring advanced heart failure interventions to the VA and to the veterans."
Air Force Veteran Walter Pinkney was the recipient of a simultaneous heart and kidney transplant and is beyond grateful to receive the organs and to the transplant center for making it possible. "The heart transplant and kidney transplant teams here at the hospital have been stupendous with what they've done for me," he said. "These people have bent over backward to take care of me and get what I need. I believe this is the best staff in the whole VA."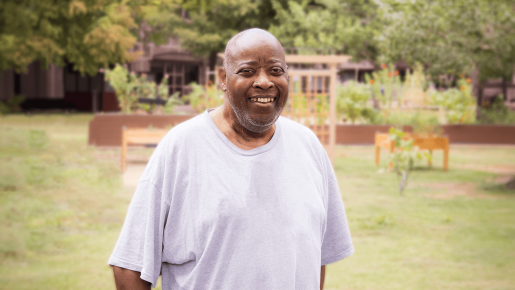 Pinkney was diagnosed with heart problems and discharged from the Air Force in 1984. "I had a lot of problems throughout the years and was diagnosed with congestive heart failure and in 2014, I had to have a pacemaker and defibrillator put in." In 2021, Pinkney had a stroke and his doctors recommended a heart transplant.
"Unfortunately, heart issues can have a negative impact on the kidneys and without a new kidney, Pinkney would be dependent on dialysis, which can lead to reduced life expectancy," explains Cotton. So, the team decided to do both a heart and kidney transplant at the same time.
With three successful heart transplants previously done at the MEDVAMC, the team was confident in its capability to perform a kidney and heart transplant at the same time.
"These surgeons and my colleagues are technically sound surgeons," says Shafii. "Not only are they competent in their craft, but they are caring and kind humans. I am proud to work alongside them and help prolong and improve lives of patients through transplantation."
The kidney transplant program at the MEDVAMC started in 2014, and there have been about 180 transplants completed. So far in 2023, the program is on course for the highest volume transplants performed in a single calendar year.
By Tiffany Harston, communications associate with the Michael E. DeBakey Department of Surgery