A new education and health sciences building, a new era for Baylor and the TMC
As a great-grandchild of Lillie and Hugh Roy Cullen, I've heard the story of Baylor College of Medicine countless times since I was a small child. It was rare for my great-grandfather to avoid talking about how proud he was of Baylor and the Texas Medical Center (TMC). For them, Baylor had always been the keystone on which their vision of the TMC relied, because no matter how many excellent hospitals were in the TMC, it couldn't become the world's greatest medical center without an excellent medical school to continuously breathe new life into it.
In the bayou, our family's vision took shape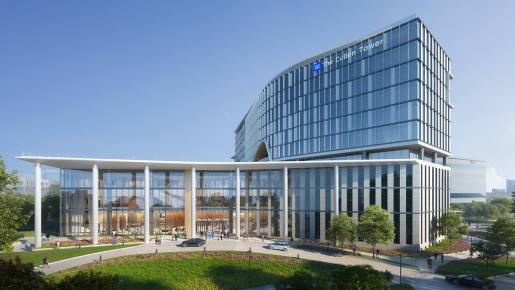 That's why my great-grandfather helped bring Baylor University College of Medicine to Houston in 1943. It's why he donated much-needed funds to finish Baylor's iconic education building, now named the Roy and Lillie Cullen Building – the first building constructed in the TMC.
I remember hearing how, when it was dedicated in 1948, the Cullen building was widely regarded as the newest, most impressive medical school building in the Western world. It was a four-story, state-of-the-art, air-conditioned marvel that housed cutting-edge laboratories and classrooms and provided an unparalleled space for talented medical students to learn and hone their skills.
I remember hearing how my family continued to support Baylor through the years, which became something of a tradition for us, something we just did. It wasn't until I became the Chairman of the Board of Trustees for The Cullen Trust for Health Care – when I started attending lectures given by Baylor faculty, saw Baylor's impact in the community and became a patient myself – that I grasped the gravity of the Cullen building standing at the center of my great-grandparents' vision for the TMC and a healthier future.
In that building, from its 1947 opening to today, Baylor has trained the bright, talented students who become our dedicated health professionals. Many of them stay in Houston and Texas (which faces a serious physician shortage) and provide the highest standard of care to people from all walks of life. Around the Cullen building, Baylor has constructed world-class facilities to produce phenomenal biomedical sciences research. Houston is stronger because of Baylor's impact in the TMC, fueled by jobs and the research funding Baylor helps attract. Without a strong TMC, Houston probably would be a very different city, a less economically resilient one whose residents don't have access to some of the best care available. The nation and the world would certainly look very different without the TMC.
I realized that the triumphs of Baylor, the TMC and our city truly began when a group of brilliant, creative people came together in the Cullen building to pursue their own visions of creating a healthier future.
Decades later, my great-grandparents' vision has been revitalized
Now, 75 years after the dedication of the Cullen building, Baylor is entering a new era of educational excellence. Once again, my family came together to support a new education building, one designed with a modern understanding of how students learn, collaborate and thrive. This building, to be named the Lillie and Roy Cullen Tower, will be a remarkable facility – a cutting-edge medical education building with 503,000 square-feet of space integrating health sciences education and biomedical research in a collaborative environment.
The Cullen Tower will be located next to the Jamail Specialty Care Center, Baylor Medicine and Baylor St. Luke's Medical Center on the McNair Campus, enabling trainees to enhance their classroom learning by leveraging their experience in the lab and the clinic. The Tower will be adjacent to the TMC's Helix Park development and Baylor's space in the Dynamic One building, which will provide further collaboration and opportunities to work with biotech industry partners to take experimental treatments from the bench to bedside more efficiently.
Like the Cullen building, the new Cullen Tower will be a space where Baylor trainees can harness the knowledge they need to pursue their own visions of creating a healthier future for all.
My great-grandparents would be so proud to see what Baylor has accomplished and so excited to see what it will do because of this building. It is a fitting tribute to them that The Cullen Foundation, The Cullen Trust for Health Care and The Cullen Trust for Higher Education have contributed a combined $30 million to the new building, one of the largest philanthropic gifts they've ever made. And it strikes me as a poignant instance of history repeating itself that it will be named in memory of my great-grandparents.
My family and I are honored and grateful to support this building and the aspirations of present and future trainees. We cannot wait to see what new beginnings will come from inside the Lillie and Roy Cullen Tower.
To learn more about the Lillie and Roy Cullen Tower and support this project, please visit bcm.edu/cullentower.
By Cullen Geiselman Muse, Ph.D.